Samsung Galaxy S6 and S6 edge hands-on: 2015's hard-hitters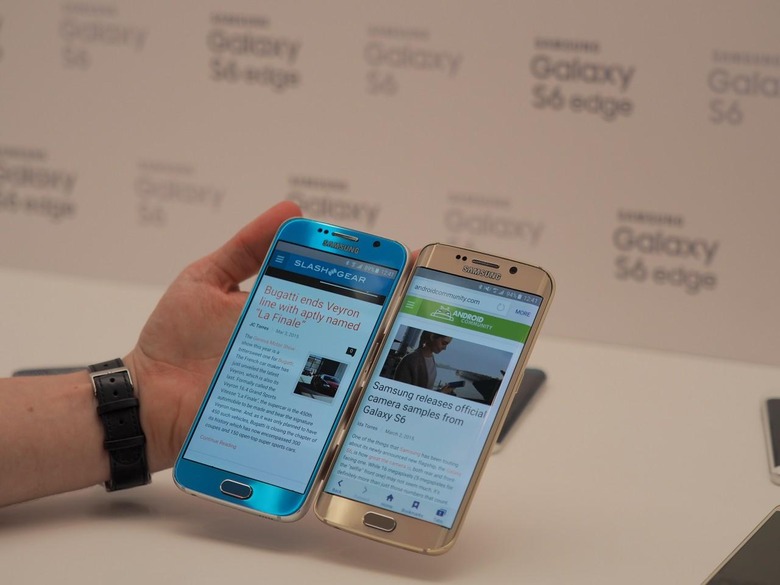 You might want to sit down for this one: Samsung has, with the Galaxy S6 and Galaxy S6 edge, finally built the Android smartphones we've been asking it for. Freshly announced at Mobile World Congress 2015 today, the new flagship pair also debut a new design language for the South Korean company, taking what was hinted at with the Galaxy Alpha and Galaxy Note 4, and finally doing away with Samsung's old plastic fetish in favor of metal, glass, and – in the case of the Galaxy S6 edge – double-curved AMOLED. Read on past the cut for my first-impressions.
My complaint with Samsung – and I'm certainly not the only one with this opinion – has long been its choice of materials. While its handsets have often led the pack in terms of features, that tech has generally been wrapped up in plastic and faux-chrome. Its made them light, and fairly durable, but it hasn't made them feel like luxury geek toys you want to pick up and play with.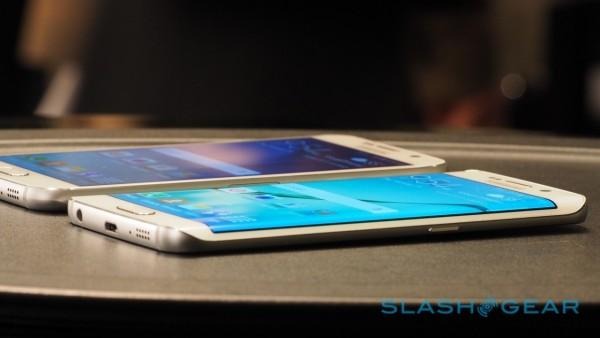 That all changes in 2015. Samsung's new era of design, internally codenamed "Project Zero", resets the focus onto "authentic materials and emotional form" so the company says, with a shift in priorities from "what we could do" to "what the user might actually need."
New hands-on video with the Galaxy S6 and Galaxy S6 edge
The result: no more plastic back, and instead Corning's latest Gorilla Glass 4 sandwiching a brushed metal frame. Four colors of each device will be offered, with White Pearl, Black Sapphire, and Gold Platinum available across the board, while the Galaxy S6 will also be available in Blue Topaz, and the Galaxy S6 edge in Green Emerald.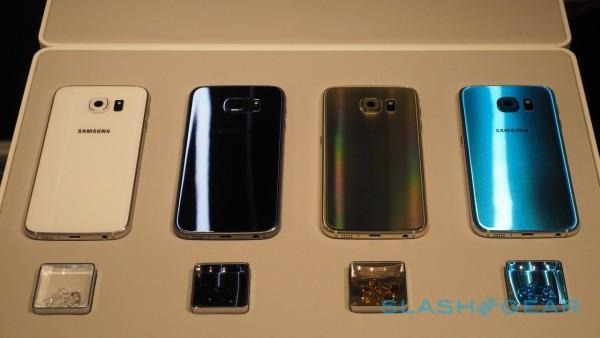 It's a huge, huge improvement over the previous "S" devices. In the hand, they're thin and sleek – 6.8mm thick for the S6, and 7.0 mm for the S6 edge – and though Samsung is not the first to use glass on both sides, it's still a finish that feels premium compared to even the nicest soft-touch plastics.
It'd also be remiss of me not to mention what I expect many are going to point out: certain design similarities between the Galaxy S
6 and the iPhone 6. There's indeed some overlap in places, particularly when viewed edge-on. Not just the combination of the gentle curve of the brushed-metal sides, but the styling of the speaker grille is reminiscent of iPhone, too.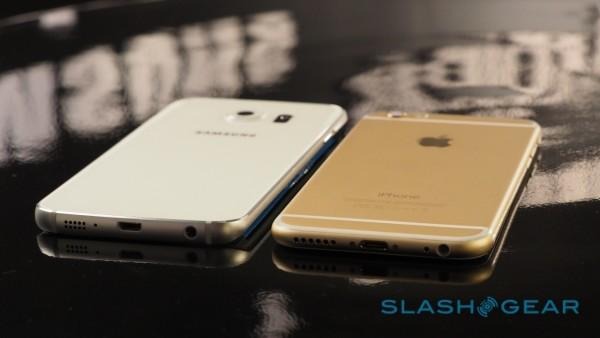 I'll leave deciding exactly what's derivative and what's distinct up to the lawyers, however, because for me what's more important is that, for perhaps the first time ever for a Samsung smartphone, the in-the-hand feel is finally on a par with
That should also serve as a warning to other Android OEMs. HTC's new One M9, announced earlier today, is a beautiful iteration on previous HTC phones, but with the S6 and S6 edge on the scene the M9 no longer has the quality and style niche to itself.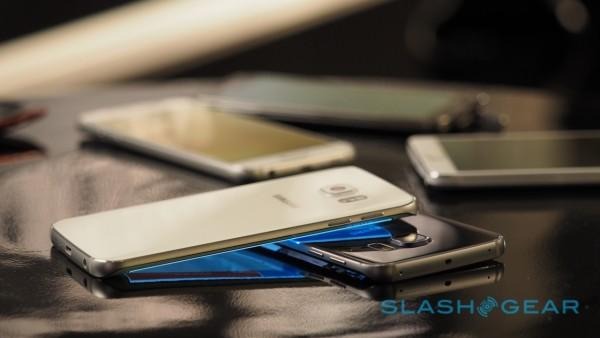 Similarly, while I'm a fan of LG's curved display on the G Flex 2, I'll be very curious to see whether the upcoming LG G4 can meet the bar that Samsung has now set for quality of materials.
Of course, Samsung hasn't stopped there. The Galaxy S6 gets a 5.1-inch Quad HD (2560 x 1440) Super AMOLED touchscreen, while the Galaxy S6 edge is fronted by a 5.1-inch Quad HD "Dual edge" Super AMOLED touchscreen, both the left and right sides of which curve around the chassis. It's a double-helping of the eye-catching design we saw on the Galaxy Note Edge, but whether you go for curved or flat, it's 20-percent brighter than the screen on the Galaxy S5, at 600 cd/mm.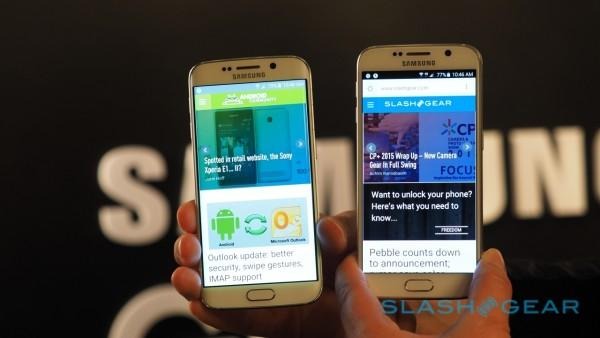 Inside, there's Samsung's own octacore processor – no Qualcomm Snapdragon version any longer – with four 2.1GHz cores and four 1.5GHz cores – paired with 3GB of LPDDR4 memory, either 32GB, 64GB, or 128GB of storage. Connectivity includes LTE Cat6, WiFi a/b/g/n/ac (2.4/5GHz), Bluetooth 4.1 with aptX, USB 2.0, NFC, and an IR blaster.
According to Samsung, the 14nm chip is 30-percent more efficient than those that came before it, and of course it was built for Android 5.0 Lollipop's 64-bit nature.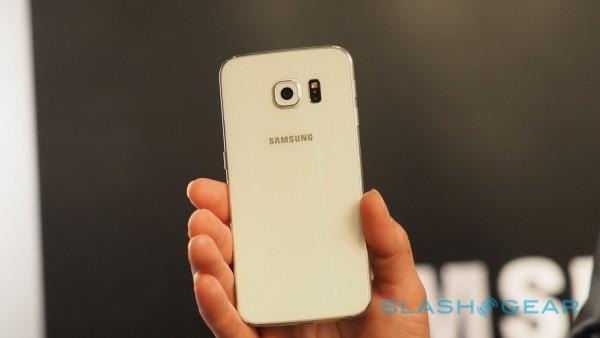 The aesthetic changes have forced a compromise or two, the most commented upon likely to be the switch to a non-removable battery. The rear Gorilla Glass 4 panel can't be removed, and so the 2,550 mAh battery (2,600 mAh in the Galaxy S6 edge) is all you get, though with Samsung's home-grown quick charge system it's around 30-percent faster to rejuice than the S5 before it. In fact, Samsung claims ten minutes plugged in will provide around four hour of use.
Probably second most controversial will be the absence of a microSD card slot. Both decisions are likely to be well-argued in the coming weeks, but Samsung is hoping that the inclusion of not just one, but two wireless charging standards – WPC and PMA – means that both Qi and Powermat chargers can be used.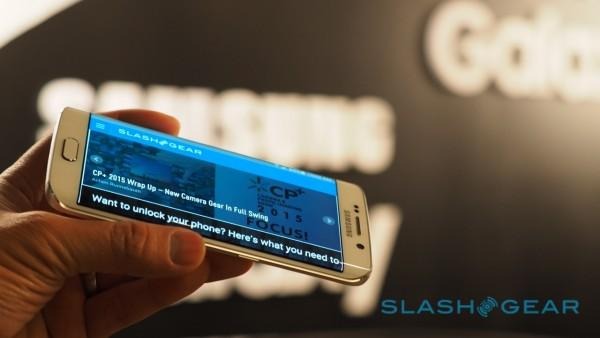 We've praised Samsung cameras in recent phones, and the Galaxy S6 looks to build on that solid performance. It's a 16-megapixel sensor, here paired with an f/1.9 lens for better light capture, optical image stabilization (OIS) from the Note 4, and for the first time an IR sensor that automatically detects white balance.
The hardware improvements are accompanied by software tweaks, too. The Galaxy S5, for instance, had real-time HDR; the Galaxy S6 adds automatic HDR, so that there's no need to choose whether to shoot in regular or HDR modes. It works both on the main camera and on the 5-megapixel front camera, too, as does the new low light video mode. A fast-launch trigger brings up the camera app in 0.7 seconds from anywhere in the system, by double-tapping the display.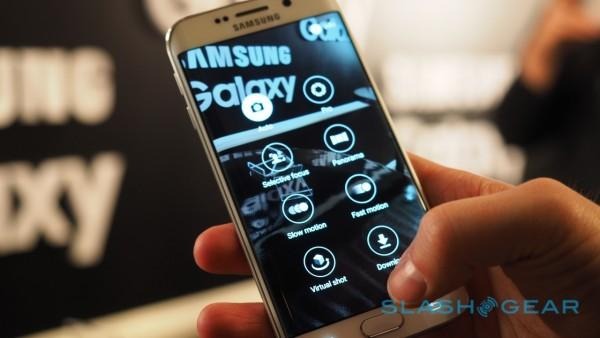 On the audio side, meanwhile, the Galaxy S6 and S6 edge are 50-percent louder than the S5, though you still only get a mono speaker. However, Samsung's audio tweaks are said to improve quality too, particularly through the bundled headset, though I'll wait until review units are available to see quite how true that is.
Built into the home button is a fingerprint sensor, but rather than the much-maligned swipe system of before, the Galaxy S6 and S6 edge needs just a touch. It'll also work – later in the year, when Samsung pushes out an update – the new Samsung Pay system, the company's retort to Apple Pay.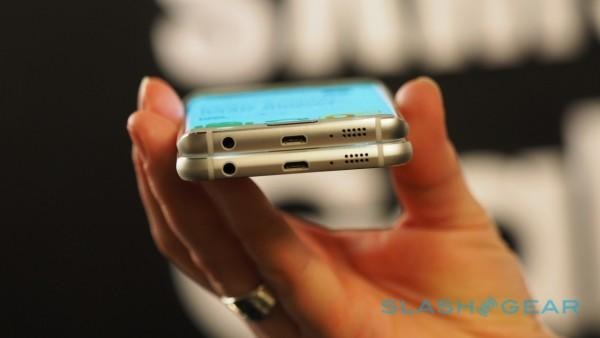 Samsung Pay will offer NFC payments, but it'll also support Magnetic Secure Transmission (MST). That basically emulates a swipe of a traditional magnetic card, opening digital payments up to a huge number of extra cash registers: according to Samsung, rather than just the roughly 5-percent of NFC-equipped terminals currently in the US, Samsung Pay will work with around 90-percent of terminals.
We'll have to wait until the second half of 2015 to actually see it in action, and to see just how ubiquitous it actually is. Samsung claims that its system is device, merchant, and card issuer agnostic, which if as flexible as it appears on paper would open Samsung Pay up to a huge number of people out of the gate.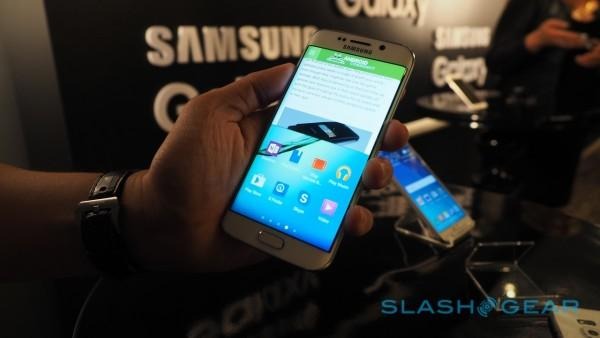 Elsewhere on the software side, TouchWiz has lost some of its needless bloat – the new phones are said to be 40-percent more streamlined versus their predecessor – though you still get S Health, S Voice, Download Booster, various themes, and Samsung KNOX for using the Galaxy S6 in remotely-managed enterprise settings.
All in all, it's a huge upgrade – and ethos change – from Samsung, not to mention a welcome one. The feedback about quality of materials being just as important as features and gadgetry has finally sunk in, and the result is two devices which feel as great as they seem to perform.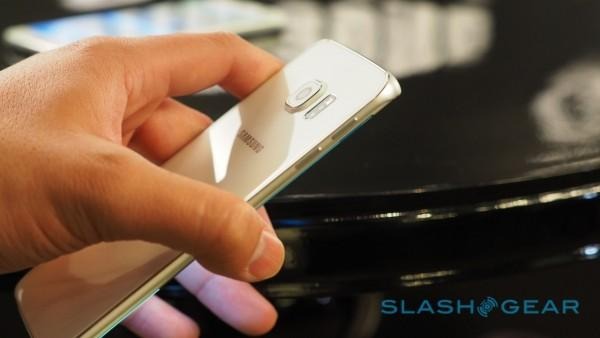 Sure, the Galaxy S6 edge will probably get more attention thanks to its Dual edge display, but the minute bezels and slightly thinner form-factor of the Galaxy S6 are not to be discounted either, particularly as we're yet to see widespread use-cases of the curved side screens. Meanwhile, both get upgrades to the areas people use most frequently: the camera, charging, and outdoor visibility. 2015 is shaping up to be a very interesting year in mobile, and Samsung is taking no prisoners with the Galaxy S6 and Galaxy S6 edge.
The Samsung Galaxy S6 and Galaxy S6 edge will be available globally from April 10th, with pricing yet to be confirmed.