The HTC One M9 is here, and it feels mighty familiar. The company's new flagship, unveiled here at Mobile World Congress 2015, takes the premium metal unibody of its predecessor and slots in a new chip, new camera, and tweaks what has already proved to be a popular design. And, while it might be easy to discount the One M9 at first for being an evolution rather than a revolution compared to the phones that came before it, HTC's argument is that such an approach is exactly the route it needs to take: refinement rather than replacement for its own sake. Read on for some first impressions.
In an age when metal phones are relatively commonplace, it's easy to forget how impressive the original HTC One M7 was back when it launched in early 2013. At the time, it was a clear step beyond both what HTC had been doing in smartphones, and what its Android OEM rivals were offering.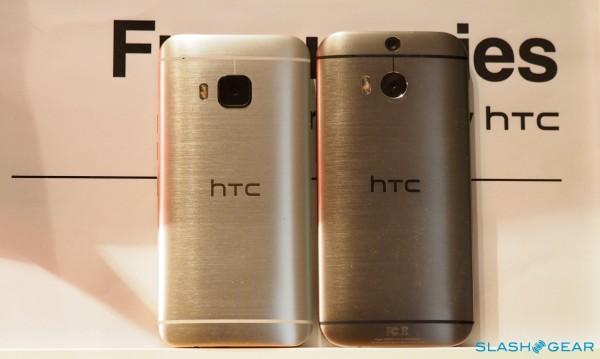 The One M8, arriving the following year, took that foundation and built on its ergonomics and feel. Its brushed metal chassis, smooth edges, and pleasing balance of display size and usability addressed some of the lingering complaints of the first-gen handset, while still being unmistakably "HTC".
At the same time, however, HTC conservatively stuck with some of its pet specs, and encountered criticism as a result. Most notably, its unwillingness to join the megapixel race – and instead focus on its own UltraPixel camera technology, offering a smaller number of physically larger pixels – was a gamble that didn't quite pay off.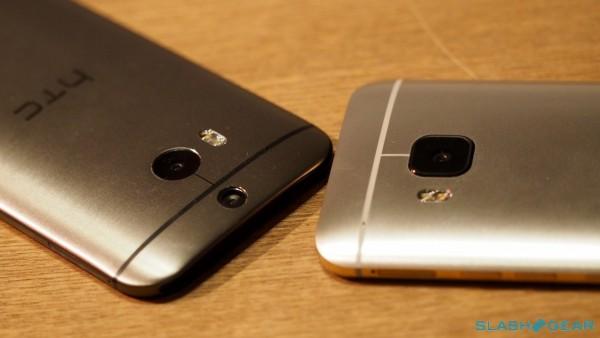 For 2015, the stakes are high, then, and the HTC One M9 arrives to further polish the details. In fact, what you first notice is the literal polish, which the company is describing as the industry's first dual finish.
A four-step process, with methodology borrowed from luxury watch manufacturers, it results in two-tone casings: either silver on gold, with polished edges; gunmetal with two different finishes, and finally gold on gold. As before, the unibody is CNC carved, but the part count has been cut: the whole front bezel is now a single piece, for instance, and the phone is – at 144.6 x 69.7 x 9.61 mm and 157g – smaller than the M8 before it.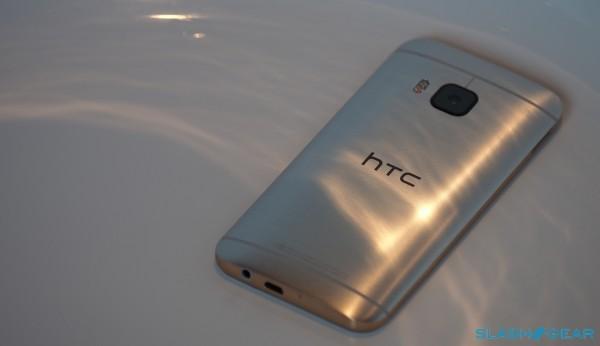 Each of the dual-tone unibodies gets a dual anodization, dipped twice for each color. For the "hero" silver and gold, for instance, that means first a silver dip, the back then being masked off, and then flipped and dipped a second time, for the gold.
The metal gets a jewelry-grade hairline finish, improving scratch resistance in the process with a new coating, and the final finishings are done by individual craftspeople rather than a machine. More importantly when it comes to the human touch, however, is that the new process leaves the rear of the One M9 a little more textured – and hence a lot grippier – than the M8, addressing a common complaint that the old phone was simply too slippery.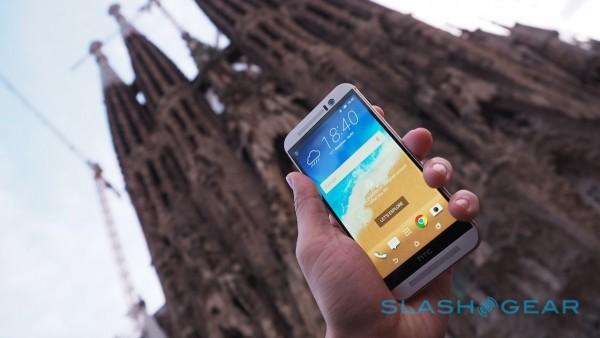 It's a labor of love, with 300 production minutes devoted to each handset, and that degree of attention has been paid to the physical controls, too. The power button has been moved from its at-times hard-to-reach position on the top edge to the side, and is far easier to quickly hit as a result; the volume bar has been divided into two buttons, similarly making it more straightforward to hit the part you want.
Happily these aren't just glamour changes, either. The new One M9 is IPX-3 rated, making it conservatively splashproof (a new Active Case upgrades that to IP68 and true water-resistance), while 168 hours of extreme weather testing saw the phone handle temperatures ranging from -20 degrees celsius up to 60 degrees, along with more than 10,000 drop tests.

Inside, there's Qualcomm's Snapdragon 810 octacore chipset, with 3GB of memory, 32GB of storage (and a microSD card slot), and 4G LTE with support for up to 21 bands in a single SKU, three times the amount supported by the M8. For those in particularly forward-thinking countries there'll be Cat9 for even faster data rates, network depending, but most users will be taking advantage of the Snapdragon 810's Cat6 capabilities, as well as its carrier aggregation VoLTE.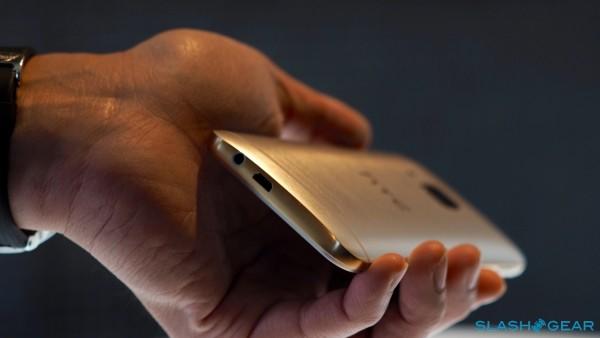 The rest of the connectivity doesn't pale, either, with WiFi a/b/g/n/ac (2.4/5GHz), Bluetooth 4.1 with aptX, HDMI MHL 3.0 through the microUSB 2.0 port, NFC, and an IR blaster. The usual GPS/GLONASS, ambient light, proximity, compass, gyro, and magnetic sensors are onboard, along with an accelerometer. The display is still 5-inches and Full HD 1080p resolution; that's probably more than sufficient for most eyes, and it certainly looks great, but it could cause some spec-sheet envy compared to the 4K panels on rival phones.
On the audio side, HTC Boomsound is still in place, only this time the sizable speakers with their capacious chambers have Dolby Audio Surround support. Obviously you're not going to get true surround sound from a set of headphones, but HTC is bundling a decent set in the box – the existing M8 set, in fact, but here optimized for Dolby's technology – and there'll be a hybrid dual-driver headset available as an optional accessory, for more detailed vocals and extended bass.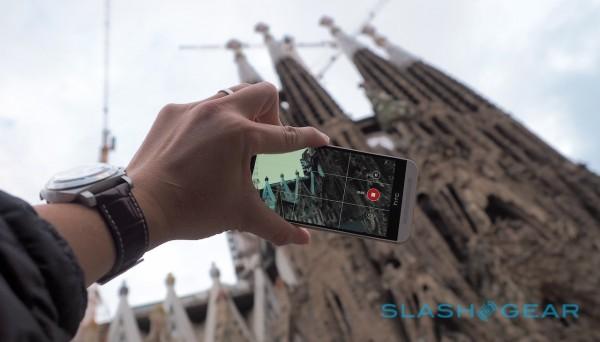 Beyond the grip, the biggest criticism of the One M8 was probably its camera. UltraPixel, though an ambitious attempt to buck the megapixel trend, struggled to compete with 13-megapixel and higher rivals when – on paper again – HTC only offered 4-megapixels. Meanwhile, though it was undoubtedly particularly capable in low-light conditions, more everyday use favored the smartphone cameras from other OEMs.
HTC has seen the writing on the wall with the One M9, but it hasn't given up on UltraPixel. Instead, the big-pixel sensor has been switched to the front, where it promises better quality selfies with its f/2.0 lens. It shoots 1520 x 2888 stills.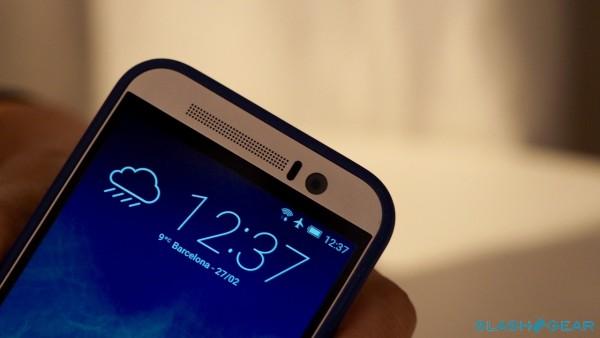 On the back, though, there's a new 20-megapixel sensor with an f/2.2, 27.8mm lens, sapphire cover, and 4K video recording support. The absence of optical image stabilization (OIS) seems short-sighted, and I have to admit, the f/2.2 feels like a disappointment, though HTC is insistent that it's a good match for the BSI sensor.
In fact, so confident is the company that it plans to add RAW capture in a new Pro mode, with an April update for the One M9. Both JPG and RAW versions of stills will be captured, though only the JPGs will be editable on-device.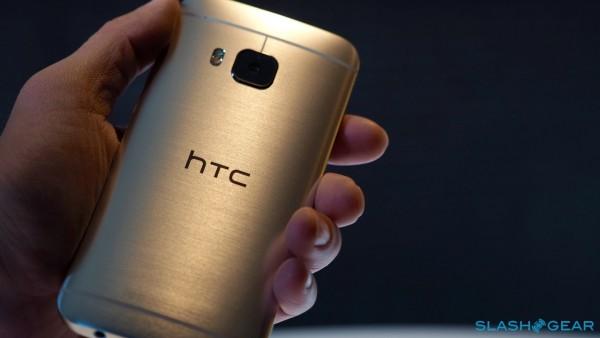 If your photo intentions are more along the lines of Instagram, however, the new HTC Sense 7 camera app on top of Android 5.0 Lollipop has some more immediately usable effects and filters. The focus there has been on cutting out some of the cheesier effects which – though eye-catching in demos of the M8's Duo Lens – felt gimmicky.
Instead of the faux-3D are things like shape masking and blending, prismatic shots, and double-exposures. That latter is a little gimmicky still – combining two shots into a single frame – but there'll be a Camera Store through which other filters and effects can be installed.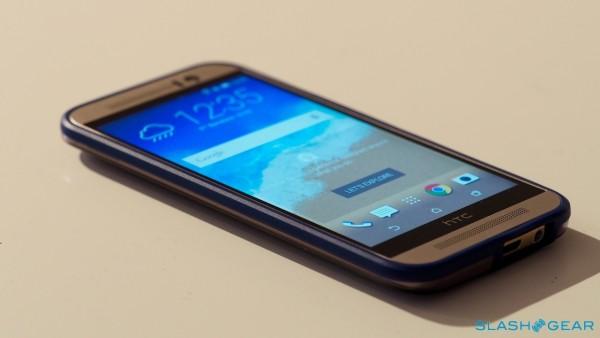 Later on, there'll be a Photo Studio tool which can be used to create printed books of images, with HTC partnering with Pinhole Press for their production. If digital sharing is your preference, Zoe highlight videos are still supported, and HTC tells me there've already been 13m downloads of the Android and iOS apps, and 26,000 created every day.
I've always been somewhat skeptical of BlinkFeed, HTC's feed of news and social stories, but according to the company there are already 16m people using it. It's getting more capable in Sense 7, including recommendations for things like places to eat, contextually generated based on time and location. Yelp, Foursquare, and others are powering the back-end, and HTC is hoping to add more sources over time so that the One M9 will be less reactive and more proactive.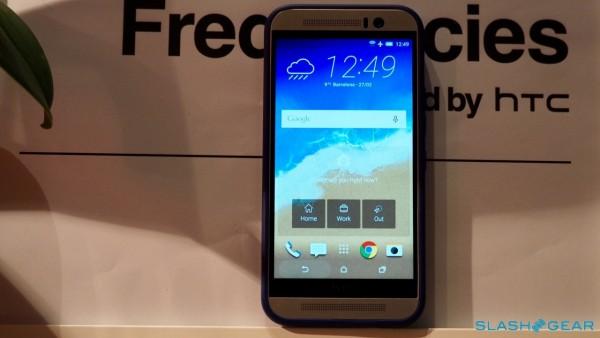 In the same way, there's a new smart launcher and a recommendation engine for potential apps you might want to download. Organization and size of shortcuts is adjusted automatically based on usage, and you can individually pin certain apps to certain locations. New downloads are corralled into a specific folder by default, rather than scattering shortcuts across your home screens.
My lingering concern with HTC's pushing of content is the effort involved. There's certainly an issue in mobile – not just for Android, either – in app discovery, but I'm not convinced that HTC is the best company to do that curation. Similarly, I'm more likely to pull up the Yelp app when I'm hungry, or in need of caffeine, than wait for BlinkFeed to decide I'm in need of a suggestion.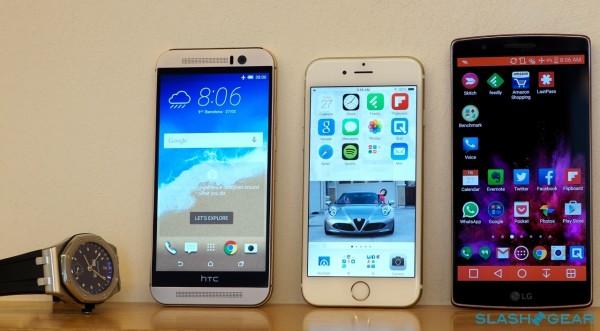 Sense 7's other changes have largely been cosmetic. There's now support for full theming – everything from the app chrome through to the keyboard – through a web interface and, since HTC's research suggests most people want a unique UI but aren't necessarily interested in investing the time to create it, you can upload a photo and have a theme automatically generated based on its component colors.
You should be able to use it all for longer with the One M9, too, thanks to a larger battery. HTC has fitted a 2,840 mAh pack inside – non-user-replaceable, just as before – rather than the 2,600 mAh of the M8. No wireless charging, since that would be too difficult to support given the extent of the metal in the body, but I'd rather have the Qualcomm QuickCharge 2.0 HTC opted for instead. In my experience, being able to give your phone a roughly 50-percent top up in about half an hour is far more useful; gallingly, HTC still makes you pay extra for the QuickCharge-compatible charger.

There's very much a sense with the One M9 that it's a device targeting existing HTC fans. That's no bad thing, in and of itself: the One M9 is handsomely designed and beautifully constructed, and for the most part tackles the core complaints owners of its predecessor had. I question some of the specific decisions – I'd have preferred fewer megapixels but a better f-stop number, for instance, and I'm not sure HTC has quite rid itself of its love of camera and UI gimmicks – but if you're a devotee of the firm, the One M9 is likely to tick your boxes.
How that fits into the rest of the smartphone market in 2015 remains to be seen. Samsung, after an iterative Galaxy upgrade in 2014, is likely to push the envelope with the Galaxy S 6 and its S 6 edge, while Apple's embracing of larger displays has paid dividends in iPhone sales. LG is doing innovation of its own with the curved screen of the G Flex 2, which pipped the One M9 to market with the Snapdragon 810, while the G4 is waiting in the wings.
I love HTC's relentless focus on design and premium construction, and it pays off in a fantastically crafted device. If it's to truly succeed, however, HTC needs to pitch the One M9 at more than just those who are already drinking its Kool-Aid. In 2015's turbulent sea of smartphones, it's going to be easy to get lost.
The HTC One M9 is due to be released on all four major US carriers in mid-March, with pricing yet to be confirmed.