Samsung GALAXY S 4 Developer Edition opens door to Android purity for Verizon

We may receive a commission on purchases made from links.
This week the Samsung GALAXY S 4 Developer Edition has been announced by the company for Verizon and AT&T, here opening the door to a more "pure" Android experience for those wishing to hack and port. While the Google Edition of the Samsung GALAXY S 4 is being delivered with stock Android next month, here the Developer edition merely gives you the keys to the locks that are Samsung's TouchWiz user interface and custom build.
With the Developer Edition of the Samsung GALAXY S 4, the device's bootloader is unlocked and S-Off is fully initiated. Developers will be able to open up the device, so to speak, and work at as base a level in its software as possible. Other than these locks being flipped, the device is the same as the standard edition of the GALAXY S 4.
The Samsung GALAXY S 4 works with a 5-inch Super AMOLED display at 1080p, with a 13 megapixel camera on the back and all of its features in-tact as they've ever been. Of course if the developer working with this device decides they'd like to completely wipe out the software on this device provided by Samsung, a few abilities that Samsung has been pushing the device with thus far will be out the window.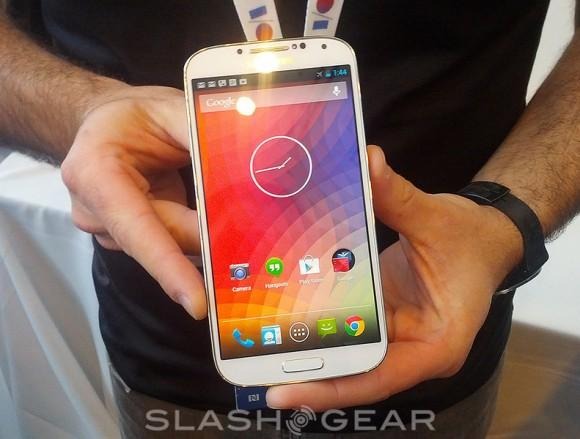 Air Gesture and Air View will be gone, while a full Samsung Galaxy S 4 Nexus phone will be at your fingertips. Both the Verizon and the AT&T versions of this Developer Edition of the GALAXY S 4 are up through Samsung – and yes, you'll be able to work with T-Mobile's microSIM cards with the AT&T version as well.
Pricing has not yet been released for this device, but it's a good bet that it'll cost right around $649 USD, just as the Google Edition of the device does. That's without a contract, mind you, and open to all manner of cards as the user sees fit.
SOURCE: Samsung