Samsung Galaxy S 4 Active video leak tips humbler specs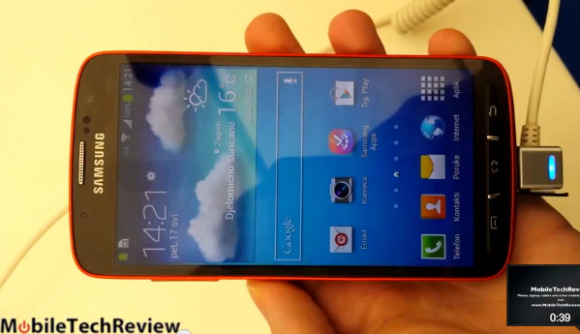 Samsung's Galaxy S 4 Active – the more ruggedized version of the Samsung flagship – has been caught in the wild again, now showing up on video ahead of the company's official launch. The new handset, which is expected to wrap the same 5-inch 1080p display in a tougher metal chassis, was handled on video, MobileTechReview reports, at an unnamed event recently.
The video is short, but it does at least give us a little more of a view of the new phone. There are also some extra details on specifications, which counter previous indications that the S 4 Active would basically put identical hardware to the Galaxy S 4 into a new body.
Instead, the Active version is said to have a more humble processor and camera than its sibling. The chip is tipped to be a 1.9GHz dualcore Snapdragon S4 Plus, from Qualcomm's stable, while the camera is believed to be an 8-megapixel model rather than the 13-megapixels of the S 4.
Whether that will make a difference to everyday use is arguable, though it does likely mean that Samsung will position the handset underneath, rather than alongside, the existing flagship.
It's not the only variant on the Galaxy S 4 we're expecting in the near future, however. A goof in Samsung's changelog for the WatchON remote control app revealed support for not only the S4 Active but the S4 Mega and the S4 mini. They're expected to be larger and smaller versions of the phone, though when they'll be officially announced is unclear.
VIA: Engadget