Samsung Galaxy Pocket demands focused fingers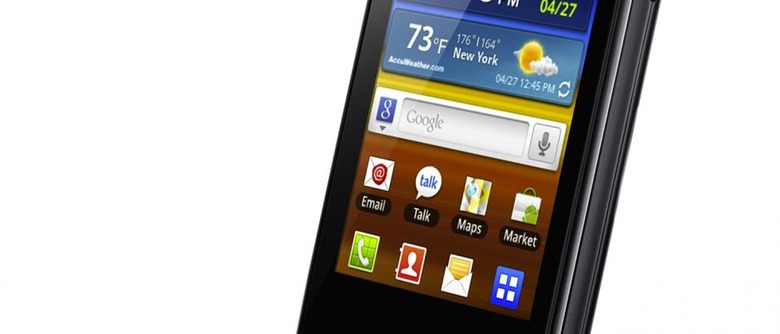 Samsung continues its smartphone scheme of "a phone for every finger, fat or thin" with the Galaxy Pocket, a dinky device with a 2.8-inch QVGA screen and Android 2.3 Gingerbread. As the resolution and OS version suggest, the Galaxy Pocket falls at the budget end of the scale, running an 832MHz single-core processor and toting a mere 2-megapixel fixed-focus camera.
There's also WiFi b/g/n, Bluetooth 3.0 and USB 2.0, along with 3GB of internal storage and a microSD card slot. a 3.5mm headphone socket and FM radio round out the main specs, together with 3.6Mbps-capable dualband UMTS/HSDPA and quadband GSM/EDGE.
Samsung preloads its TouchWiz UI and Social Hub, and the ChatON multi-platform IM app is available for download from the company's own Samsung Apps store. You also get the usual Gmail, YouTube, Google Maps and Android Market access.
Really, though, it's the size that makes the Galaxy Pocket anywhere near special: at 103.7 x 57.5 x 12 mm and 97g it's the perfect smartphone for anyone who doesn't want to give over their entire pocket or purse to their handset. No word on pricing, but the Samsung Galaxy Pocket will hit the UK later in 2012.