Samsung ChatON for Android Review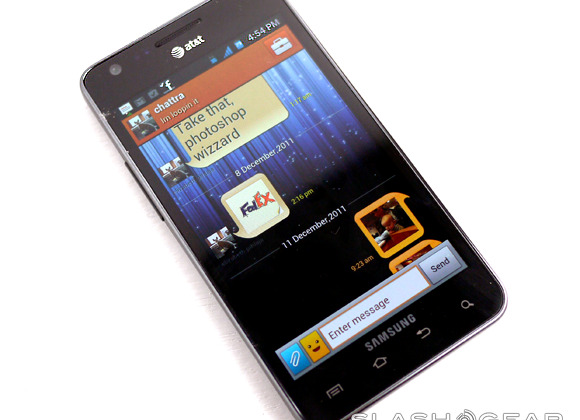 When it comes to communication solutions in our modern connected, mobile, and forward thinking society, we've got no lack of abundance, especially when it comes to messaging applications. What Samsung has tried to do here with their own group chat app by the name of ChatON is to differentiate by having both a simple to use interface as well as connections to basically every media gallery on your device, as well as your camera. Have a peek here at our hands-on review of ChatON and know this: the application is out on the market already and you'll be able to download it for free for Android and Bada right this minute if you wish!
This review is supplemented by the rest of the ChatON articles we've got here on SlashGear (in the timeline at the bottom of this post) as we use the app to show what a manufacturer is capable of when they put their minds to it. Where many apps created by manufacturers (OEMs that shall not be named) are not the most desirable for one to have on their mobile device unless they love aesthetic pain, Samsung has created this group chat app to both look nice and work simply.
The video here shows how a group chat works, complete with animated message – the coolest feature of the whole application when it comes down to it. What you're able to do, and what this application does best, is create chats that contain just you and another person or you and several people, whatever you like. Inside your conversation you've got the ability to share any number of items from text to audio to anything you can capture with your camera, and sharing is more than just easy. Once you've shared your message, the media contained within shows up in the room with all your pals as well as in the room's Trunk.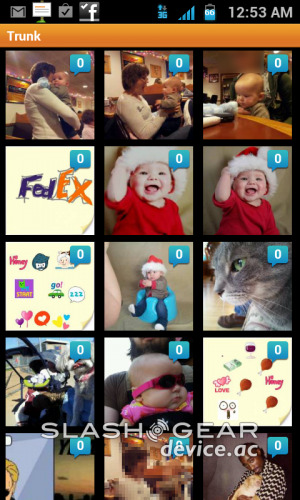 Inside the Trunk you'll find all of the media shared inside the Chat, each of these units of fun able to be re-shared and downloaded by you at will. Inside the Chat where you're sharing you've also got the ability to change how the Chat looks to you, this ability given to everyone else in the Chat as well, just affecting their view of the Chat. Change the color of the chat bubbles, their shape, the appearance of the background, and the text's font. Quite simply fun and entertaining.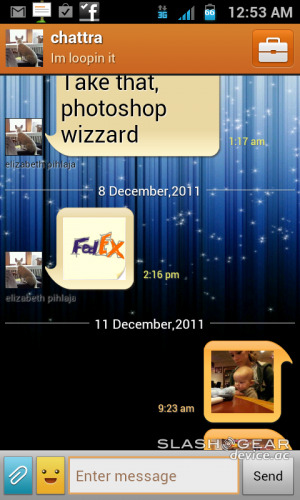 Download the app on the Android Market right this moment completely for free. You can also download this application for free from Samsung Apps and on other platforms (such as in your web browser through chaton.com) soon!