Samsung Galaxy Player 4.2 Review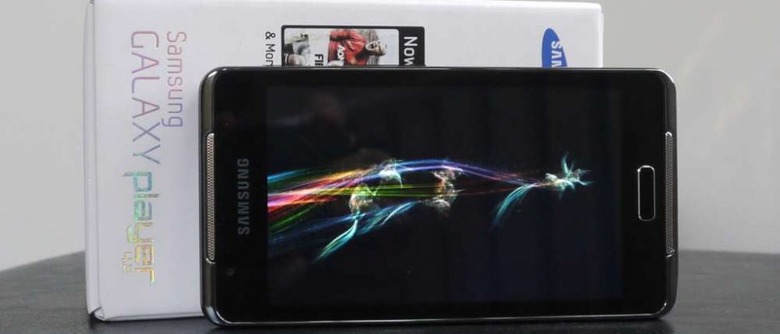 The expansion of the Samsung realm of wi-fi-only smart devices continues with the Galaxy Player 4.2, complete with two front-facing speakers, Android 2.3 Gingerbread, and a lovely display. This device is essentially a Galaxy S II at half-power and without a mobile connection – but keeping all the media-playing powers of a device deeply integrated in the extended Samsung family of Smart TVs, apps, and speakers galore. Here we'll take a look at how it feels once again to work with the Samsung mobile media player, here in its most ideal shape and form yet.
Hardware
Unlike its slightly more massive cousin which you can see in our Samsung Galaxy Player 5.0 Review, this device is extremely thin and certainly one of the lightest smart devices on the market today. The only lighter device we've seen along these same lines is one you can see in our Samsung Galaxy Player 3.6 Review – a tiny device, to be sure. This 4.2-inch relative of those Galaxy Players has many of the same specifications but here may well have the most ideal combination of palm-fitting form factor and media playing prowess.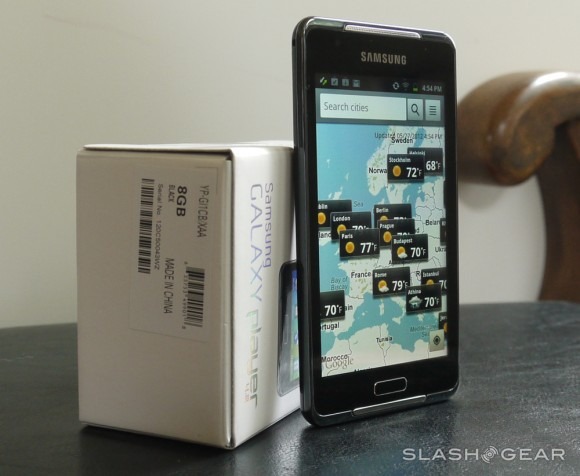 Here you'll find a device with Android 2.3 Gingerbread – certainly not the most advanced software available from Google or Samsung for that matter, but enhanced in several ways that make it equitable in a few choice ways. You'll be able to see all of the applications you've got open at once by holding down the physical center button on the front of the phone. Access Google search by holding down the menu button. Turn the entire device on, the display off, and adjust the volume from the right side of the device, this handset having both its power and volume buttons sitting right under your thumb – if you're right-handed, that is.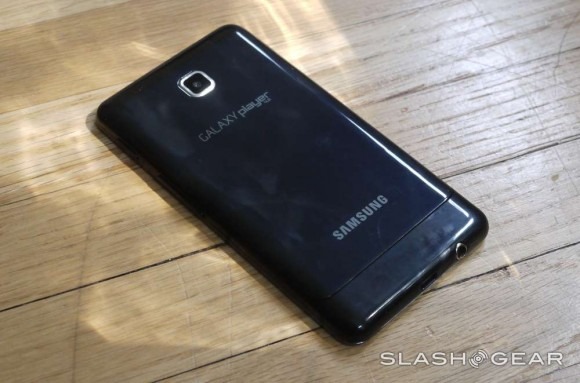 The two speakers on the front of this device remind us that Samsung has begun moving to this sort of model. We've seen this same cue on the Samsung Galaxy Tab 2 10.1 as well – have a peek at our Samsung Galaxy Tab 2 10.1 Review to see how we enjoyed this feature just as well there as we did here. The vast majority of smartphones working with exterior speakers have been on the back, made to bounce sound off of the palm of your hand and reserve space on the front of the phone for screen space. Here Samsung is making it clear that this is not a smartphone, but a device made to play games, play music, and play movies first and foremost.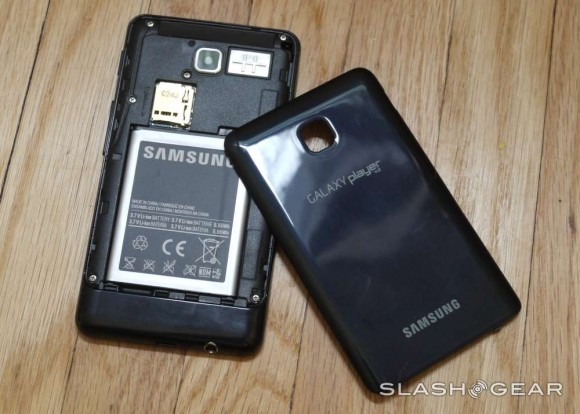 The Galaxy Player 4.2 has a display that's right on the sweet-spot for what I'd consider a perfect screen size. Most adults with mid to large-sized hands should be able to reach the entirety of the device's display with their thumb without needing two hands to do it, and the ideal location of the power button and volume button only adds to that ideal media-controller situation.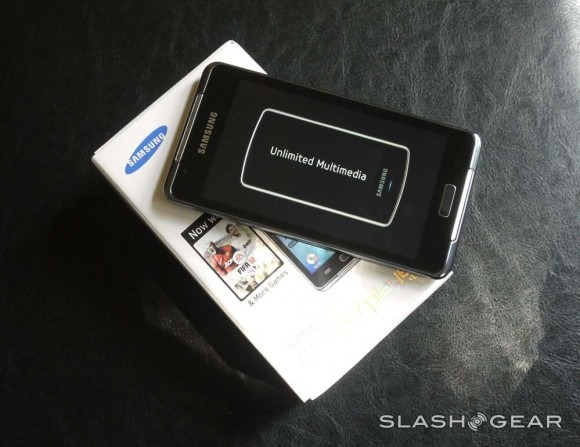 This device is able to connect with DLNA displays with the app called AllShare, Bluetooth devices with Bluetooth 3.0, and of course wi-fi internet. You'll be connecting to your computer for media transfer with the free desktop-connected app Samsung Kies, and your USB connection is 2.0. You can play AVI, MP4, 3GP, WMV, ASF, MKV, and FLV videos as well as MP3, WMA, Ogg, FLAC, AAC, and WAV audio files. Inside your basic Music application you've got a sound levels controller called SoundAlive which has a set of presets such as Rock, Dance, Jazz, and Auto – and there's a couple of customizable sets as well.
Software
Here we see Samsung's most advanced version of media-player-ready Android 2.3 Gingerbread with TouchWiz enhanced for a rapidly evolving Ice Cream Sandwich-heavy environment. It's unclear why this device does not simply have Android 4.0, but perhaps it is just that – updating this device mightn't be so simple. It's not extremely necessary to have that newest version of Google's mobile OS for media and game playing, and that is what this device is made for without a doubt.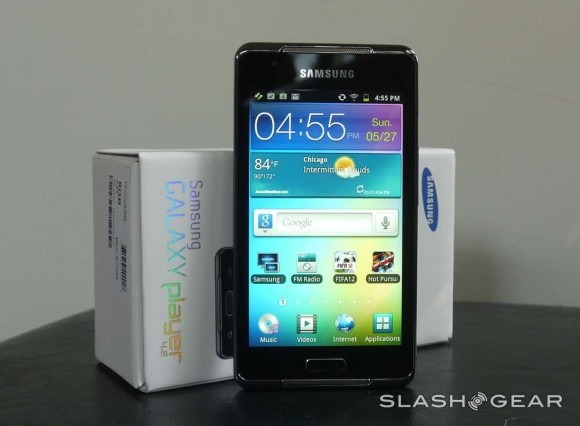 Below you'll get a glimpse of how quick the Galaxy Player 4.2 works with its installed software, and we've got a couple of benchmarks here as well for you to compare with the rest of the smartphone and media player world.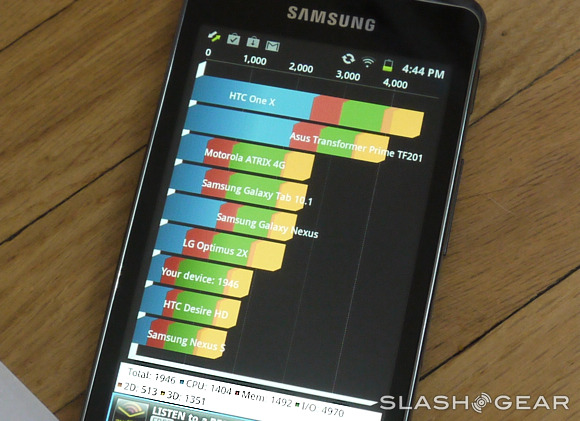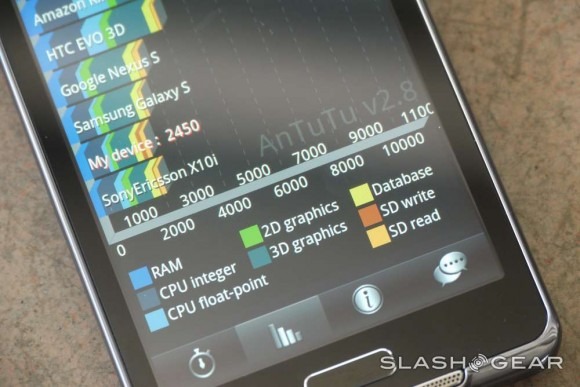 Sound Quality
Samsung has never disappointed with their ability to place excellent speaker systems in the smallest of devices, and this is no exception to the rule. Through the earbuds included with the Galaxy Player 4.2 or through higher-quality headphones, you'll not be let down by the headphone jack on this machine. The same is true of the two impressive speakers on the front of the device, each of them perfectly strong enough to use in a crowded bus station or on your own in the darkness.
Camera and Battery
This device has a front-facing camera good enough for basic video chat, a back facing camera with 2-megapixels imaging quality power, and both are fairly good. Compared to the kings of the smartphone world, they're not so fabulous, but for taking photos for Facebook or Twitter, you'll be fine. Have a peek at a few examples below and behold all 2 megapixels of fury.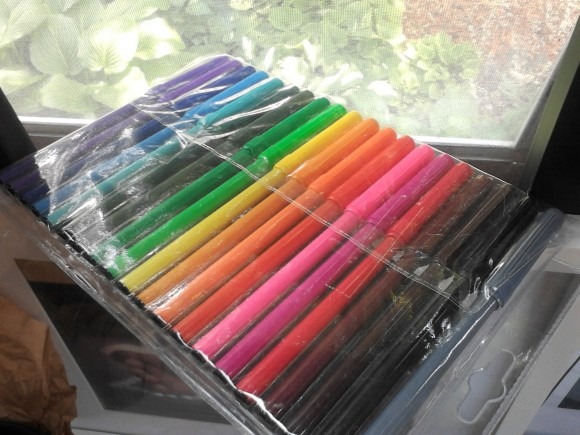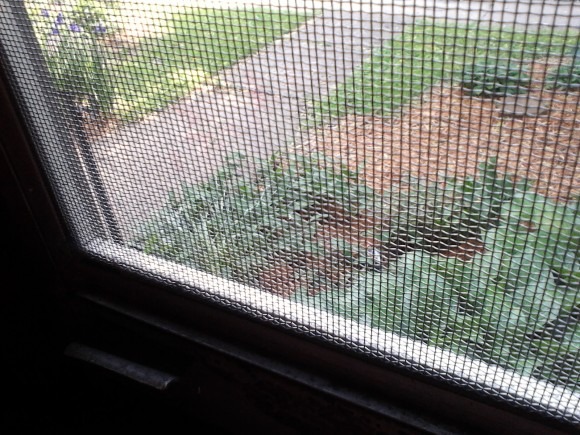 Battery life on this device is fantastic if only because there's no mobile data to be sucking it down hours after hour. We've gotten at least a day's use out of this smart handset if not a day and a half after web browsing, streaming video over Wi-fi, and playing music through the whole test. The Galaxy Player 4.2 is a very well-balanced device as far as battery life goes, that's for sure.
Wrap-Up
If I had to choose one Galaxy Player from the whole lineup released or announced thus far to work with, this would be it. The Galaxy Player 3.6 is just a bit too small to want to work with, and the Galaxy Player 5.0 is much too thick to want to have anything to do with. The only misgiving I've got with this particular model is the slightly less than stellar lighting in the buttons on the front of the device. This seemingly out-of-character feature does not look great, but does not hinder the operation of the device in any way.
Here at $199 this may well be the best deal on the mobile market if you're not in the market for a tablet-sized device. Later this year we might be seeing sub-$199 tablets at 7-inches with next-level processing power. For now, $200 with no contract for an entertaining device such as this with Android is a fairly decent price. Find shops both online and offline to purchase this device through Samsung and gain entertainment in excess.