Enter the Samsung Galaxy NX: a full-sized mirrorless interchangeable lens camera running Android. This is Samsung's biggest effort in bringing Android – their flavor of Android, that is – to the full-on high-powered camera environment. This device works with a "DSLR-class" 20.3-megapixel APS-C CMOS image sensor aside a quad-core 1.6GHz Pega-Q processor behind a system that accepts the full range of interchangeable lenses from the rest of the NX system. That's 13 lenses, if you did not know.
This device works with both wi-fi and 4G LTE connectivity and is able to kick out some DRIMe IV image processor and a wide ISO range of 100 to 25,600. This machine works with a hybrid autofocus system and the ability to switch between manual and autofocus on the fly. This device also features an i-function button for easy shortcuts as NX devices are equipped with on the regular.
To control all this, you've got physical controls up top – including a physical shutter button, of course, as well as a large touchscreen display on the back. This 4.8-inch display sits at the back of the machine with HD Super Clear TFT LCD technology bringing essentially the same experience as you'll get with the original Samsung Galaxy Camera.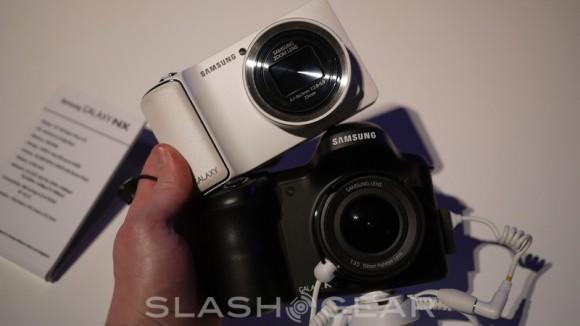 Inside you've got 16GB of internal storage while a microSD card slot for 64GB more storage if you'd like. As you'll know well by now, this machine works with 1/6000 sec shutter speed and 8.6fps shooting if you're so inclined to move so quick. Pair it with the Samsung 45mm 2D/3D lens and you'll be able to take 3D photos and video as well – this machine's "True 3D Creator" will help you on your way in that functionality universe.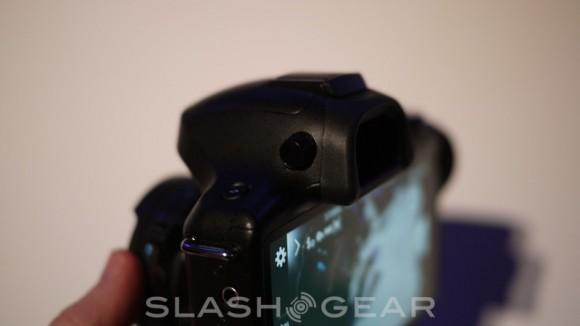 Up top you've also got a built-in pop-up flash as well as a rubbery cover for this device's viewfinder. Of course you'll be able to use this machine's massive display on its back to see what you need to see, but lovers of the classic fashion can still rejoice.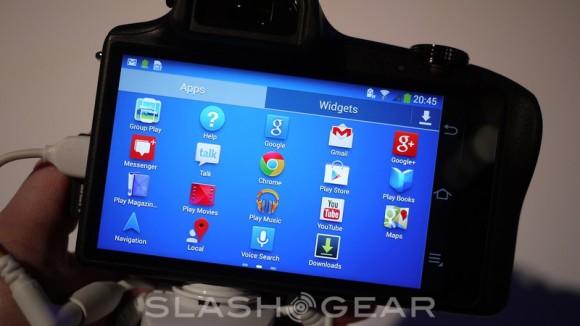 Inside you've got a massive stack of filters and camera software features, beyond even that of the original Samsung Galaxy Camera. As we move through these features and the quality of the images and video provided by this unit, we'll be bringing you no less than a full review sooner than later. Stay tuned, and let us know what you'd like to know about this device in the meantime!