This afternoon Samsung has made their first interchangeable-lens-toting 3G/4G LTE and wi-fi enabled camera running Android, the Samsung GALAXY NX. This device works with a 20.3MP APS-C Sensor up front as well as a Advanced Hybrid Auto Focus (AF) System inside, while the full-panel back-display on this machine works with Android 4.2 Jelly Bean, including all the Google Play app store camera software available to all Android devices today.
The Galaxy NX works with 1/6000 sec shutter speed and 8.6fps shooting and a collection of Interchangeable Lenses that'll allow for the versatility of a DSLR. Inside you'll find a DRIMe IV Image Signal Processor for speed and accuracy and the power required to shoot not just 2D images, but 3D as well.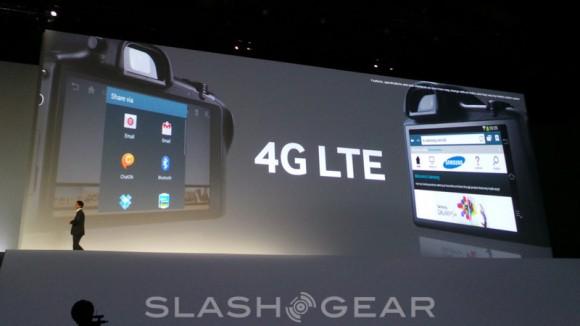 This camera works with what Samsung calls "True 3D Creator". This is a software feature that "brings an added element of realism" to the GALAXY NX while it allows the user to shoot both images and movies in 3D – just so long as they've got the lens to do it with. That lens is the Samsung 45mm 2D/3D lens and it'll be available separately from the basic body of the GALAXY NX.
This device works with many of the features the Samsung Galaxy S 4 works with including "Story Album" and "Photo Suggest", bringing this device up well beyond the average Android-toting camera. As it was in the Samsung Galaxy Camera, so too do you get a collection of 30+ Smart Modes for auto-optimized settings. Along with this comes Camera Studio, this bringing on the ability to save settings for later customized use.
Inside this device you'll find a built-in pop-up flash, WiFi a/b/g/n at 2.4GHz and 5GHz, and Bluetooth 4.0 (LE). This device also has integrated GPS, GLONASS (Support A-GPS), and a full range of sensors: Accelerometer, Geomagnetic, Proximity, Gyro, RGB Light. You'll be kicking it all out with 2GB of RAM, as well.
As for storage, this camera has 16GB of internal memory as well as a microSD card slot able to work with 64GB microSD cards. Not full sized, mind you!
The full unit sizes up to 136.5 x 101.2 x 25.7 (37.65) mm, and weighs in at 410g (without battery) / 495g (with standard battery). Stick around as we give this machine the full hands-on treatment shortly!