Samsung Galaxy Note III and Galaxy Gear coming to T-Mobile and AT&T in October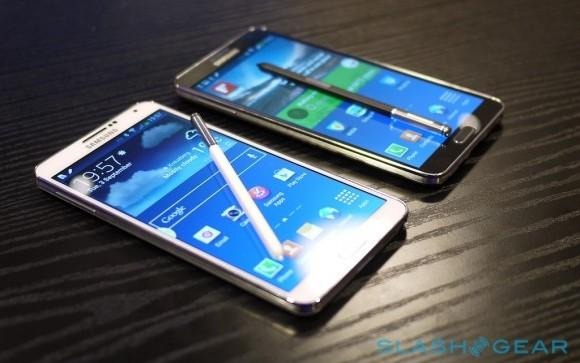 Now that Samsung has lifted the covers off its Galaxy Note III phablet and Galaxy Gear smartwatch, we get to wait for carriers to race to deliver the devices to their present and would-be customers. Now we have confirmation that T-Mobile and AT&T will start carrying Samsung's latest dream gadgets starting next month.
The Samsung Galaxy Note III turned out to be everything it has been rumored to be and more. Aside from the hardware specs that you've probably memorized by now, the Galaxy Note III features a leather-textured back cover, a new windowed flip cover case, and loads of software features that take advantage of the improved S Pen. The accompanying Galaxy Gear smartwatch, while not as compact as we'd hope, still managed to impress us and felt like a polished, well thought-out product. To get some more details, you can see our hands-on of the Galaxy Note III and the Galaxy Gear.
If reading our experiences has left you pining for the devices, you need not wait that long to get your hands on one, especially if you're in the US. Both the Galaxy Note III and the Galaxy Gear have received broad support from major US carriers, some of whom have just now revealed how far that support really goes. AT&T has just announced that the carrier will be starting to accept pre-orders of for the Galaxy Note III starting September 6. Buyers will be able to avail of the Galaxy Note III at $35 per month on AT&T's Next program, or $299 with a two year contract.
T-Mobile subscribers also have some good news waiting for them. The Galaxy Note III will be available on T-Mobile's Simple Choice plan for $199.99 a month, down with 24 equal monthly payments of $21.00. The carrier will also be making the Galaxy Gear smartwatch available to its customers for $299, plus taxes and fees. T-Mobile isn't accepting pre-orders yet, but has a sign-up page to let interested people know when they will be accepting orders. As a bonus, those who register before September 15 will get a chance to win a Galaxy Note III and a Galaxy Gear.
AT&T says that orders for the Galaxy Note III will start shipping on October 1. Unfortunately, it has no pricing or availability details for the Galaxy Gear. T-Mobile, on the other hand, will launch the new Samsung products on October 2.