Samsung Galaxy Note II accessories get colorful showing at IFA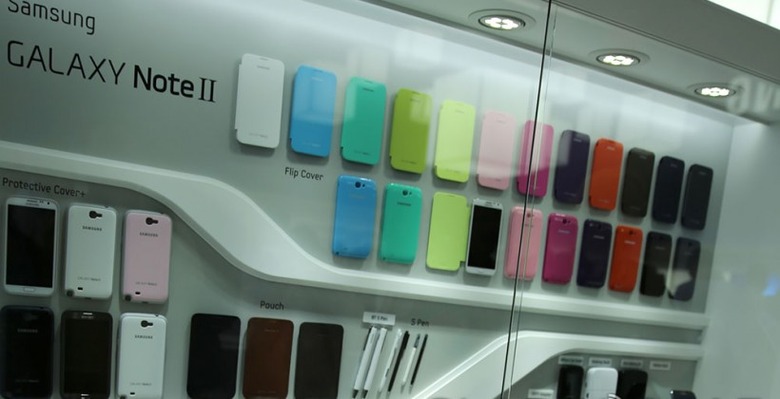 If you thought the fabulous accessory lineup that came with the Samsung Galaxy S III was about to stop with the smartphone, you were wrong. There's a whole load of Galaxy Note II covers, protectors, and pens you can grab for the next-generation Galaxy Note phablet, and they're being shown off this week in Berlin at IFA 2012. This set of accessories pretty much replicates what's already available for the Galaxy S III, but a couple more colors have been introduced – and of course they've got an spot so the S-Pen can exit the machine.
There's a set of three pouches made of either leather or faux-leather that you can slide the Galaxy Note II into while it sits in your bag or pocket. There's a collection of protective cases prepped for the device with a bumper around the edges to protect against drops, the back appearing to have a relatively thick plastic in the same set of colors currently revealed for the Note II – and there's a lovely soft pink for you cuties out there. These cases protect the sides and the back of the device and include an S-Pen slot.
The Galaxy S III Flip Cover is back, this time large enough for the Samsung Galaxy Note II. These Flip Covers come in a wild variety of colors like blue, green, electric yellow, pink, another pink, mustard yellow, red, black and white – if you want to keep with the basic model color, of course. These flip covers replace the back of the device (the battery cover) and have a cover that swings around the front for front-facing protection. Amongst the Galaxy Note 10.1 cases shown at IFA 2012 are a set of vehicle docks for the Galaxy Note II as well – they're stuck right up over there to the right.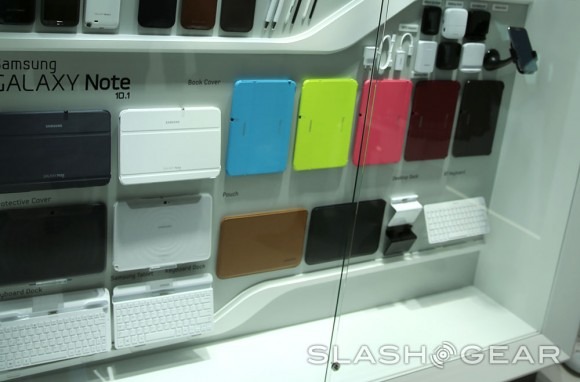 A set of alternate S-Pen devices appear here not quite a size that's made for docking, just a bit larger for larger-handed users. A set of battery chargers is here too, all of them ready for launch later this year. At the moment there's no pricing or release information attached, but you can bet they'll all be hitting the market right around the same time as the actual device.