Galaxy Note 9 May Replace Your PC With Just A USB-C Cord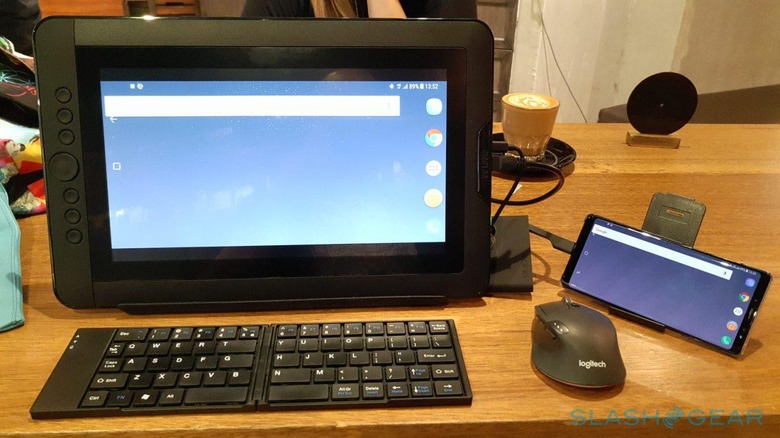 There's a feature in the Samsung Galaxy S9, most recently, which allows Samsung phones to be their own miniature PC replacements. It's called DeX, aka Dockless Desktop, and it's actually pretty neat. It wasn't perfect the last time we took a closer look at it*, but it was certainly on the right track. Now, with the Samsung Galaxy Note 9, there's a real possibility that DeX will become a whole lot easier to get into right out the box.
Have a peek at our feature from JC Torres: Galaxy Note 8 and DeX – one month later: I almost ditched my PC. With the Galaxy Note 8, users needed to roll with a special little dock to get DeX running. With the Samsung Galaxy Note 9, that's no longer a requirement. Or at least that's what WinFuture's Roland Quandt suggested this afternoon.
Now, to make proper use of the DeX desktop experience, one should really have a keyboard and a separate mouse – but they're not absolutely necessary. The dock will probably still work, and the dock will probably still be ideal. But this newest Galaxy Note 9 DeX system requires only a USB-C converter to HDMI. The connection is made with an external display just like a PC, but with USB-C instead of an HDMI-to-HDMI cord.
It's likely the Samsung Galaxy Note 9 will be promoted as an amazingly efficient machine, as previous DeX phones required the dock in order to stay cool while in DeX mode. With the Galaxy Note 9, that's apparently not necessary. This means the battery stays cool, the processor stays cool, everything stays cool.
The Samsung Galaxy Note 9 is suggested to be appearing on the 9th of August, 2018. Therein, Samsung will reveal the Galaxy Note 9 and will put the device up for preorder within the following week. The device will then go on sale, according to rumors, on the 24th of August, 2018.
Pricing of the device was tipped earlier this week to be anywhere between $1000 and $1300 USD (or thereabouts). That's the least of the versions of the device to the most extravagant, mostly based on internal storage. This device will appear in at least three colors and will be available in most countries around the world.