Samsung Galaxy Note 8.0 tablet tipped for MWC 2013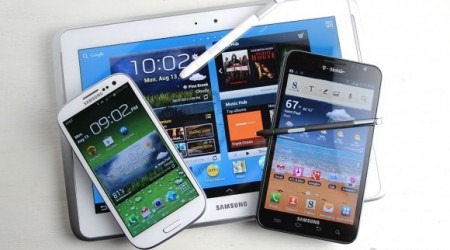 In less than a month we'll be seeing a brand new collection of devices prepared for the masses at Mobile World Congress 2013, and today's tip suggests that a Samsung Galaxy Note 8.0 (8-inch tablet) will be amongst them. With two sizes of Samsung Galaxy Note out on the market besides the first 10.1-inch tablet Note, it's not too much of a stretch to think Samsung wouldn't also bring on an 8-inch version of this S-Pen-toting lineup. This machine has today been connected to previous leaks of device codename GT-N5100, spoken about in the past as a 7 or 7.7-inch beast that's never seen the light of day.
This next Galaxy Note's suggested specifications are right in-line with what we'd expect from a mid-sized Galaxy Note update to the Galaxy Tab collection. First you'll find a 1280 x 800 pixel resolution Super Clear LCD display up front with a 1.3 megapixel camera facing forward and a 5 megapixel camera on the back. Inside there'll be 2 GB of ram working with a yet-unknown SoC, but given the trend here in the Spring of 2013, it could either be a quad-core Exynos 4 not unlike the Galaxy Note 10.1 or one of those fancy new Exynos 5 Octa processors that are being suggested for the Samsung Galaxy S IV.
The GT-N5100 machine is being tipped this week by a source speaking with SamMobile as being the 3G version of this machine while code GT-N5110 will be tacked up for wi-fi only. This machine's basic size will be 211.3 x 136.3 x 7.95 mm and it'll be weighing in at 330 grams, while the shape of the hardware is yet unknown. It's likely that Samsung's "Nature" theme will continue with smooth corners and leaf-like aesthetics all around, with the same or a slightly updated S-Pen ready to roll with this tablet as it's revealed this early Q1 season.
Two different sizes are being tipped as being revealed with the initial announcement, 16GB and 32GB (internal storage), while every model will have a giant 4,600 mAh battery. Inside you'll find A-GPS, Wi-Fi 802.11 a/b/g/n, USB 2.0 (through its proprietary plug OR microUSB, we shall see), and Bluetooth 4.0. We'll see what we can see at Mobile World Congress through our fabulous MWC 2013 portal soon and very soon!
[via Android Authority]