Samsung Galaxy Note 8.0 Review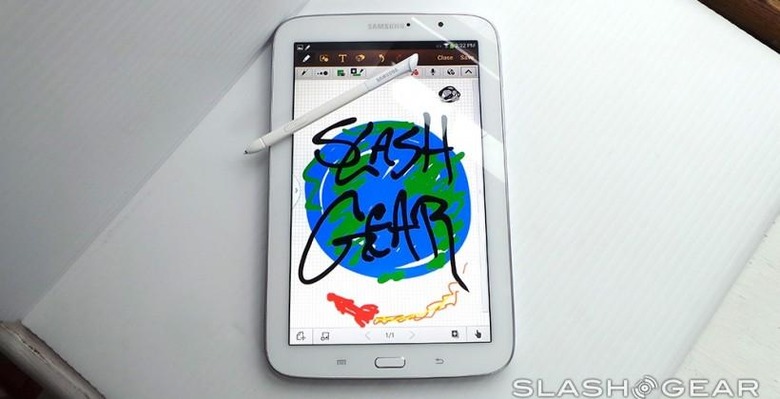 The Samsung Galaxy Note 8.0 takes the mid-sized mobile market that Samsung's had covered for several years with successive Galaxy Note tablets and adds a pen. With Samsung's newest iteration of the S-Pen, a quad-core Exynos processor under the hood, and this rather thin form-factor, this is easily the best tablet effort in this category the manufacturer has ever offered. In this 8-inch size, Samsung has also created what many will find to be the ideal size for carry-along entertainment and notes.
Hardware
The Galaxy Note 8.0 works with an 8-inch display with 1280 x 800 pixels across its face – that's not exactly the sharpest screen on the market, mind you, but it's certainly sufficient for the basics. Compared to the biggest competition this device has – the iPad mini – it'll certainly do enough to fight: the iPad mini rings in at 163 PPI while the Galaxy Note 8.0 brings a cool 189 PPI to the table.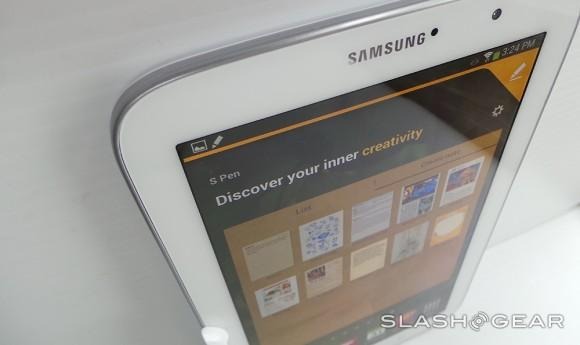 There are going to be at least two versions of this device coming to the market, one of them being the wifi version we've got here. This version works with wifi connectivity alone, leaving the 3G/Phone abilities iteration to come internationally. There's also the possibility of a 4G LTE version coming to the USA later this year. Any version of the tablet appears to be coming in at the same 210.8 x 135.9 x 7.95 mm – thin and light indeed at 340g.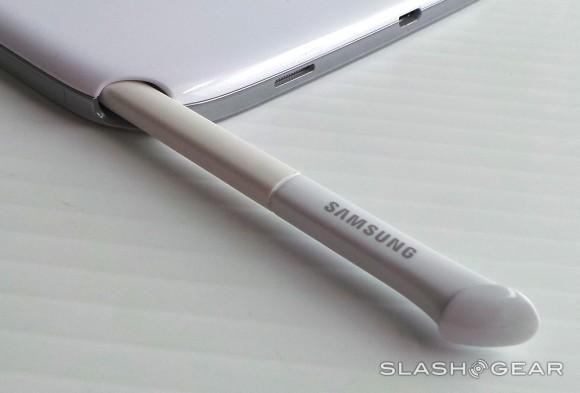 The S-Pen you get here fits snug inside the side of the tablet right under the right-hand side when you hold the tablet in portrait mode. This particular S-Pen and tablet has a newly advanced set of features that work exclusively with one-another. One of the first – and perhaps most important – of these is the pen's ability to tap the menu and back buttons below the display where past Galaxy Note devices were unable to do so.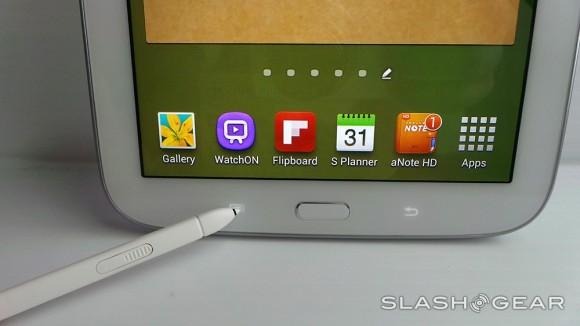 You'll be using the S-Pen to preview objects as well – "Air View" is what this is called, and it works not just with gallery images and videos as it did with the Galaxy Note II and Galaxy Note 10.1, it now has the ability to preview Flipboard stories, open website menues that normally require clicking, and preview an email attachment. Some/all of these features will be available to your finger with the Air View connection on your Samsung GALAXY S 4, too.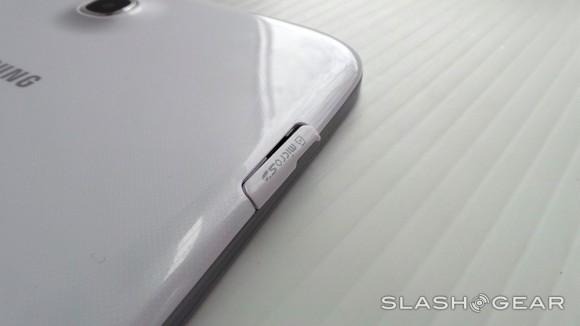 This tablet is just a bit too big to hold comfortably in one hand while you're walking around and penning in notes with the S-Pen with the other. If you want top-notch on-the-go note-taking, you'll want to check out the original Galaxy Note or the Galaxy Note II – they'll even fit in your pocket! With the Galaxy Note 8.0 you'll be popping your hardware out at the desk or on the bus more than likely. This device is just large enough to join the Galaxy Note 10.1 with the lap-balance family of tablets.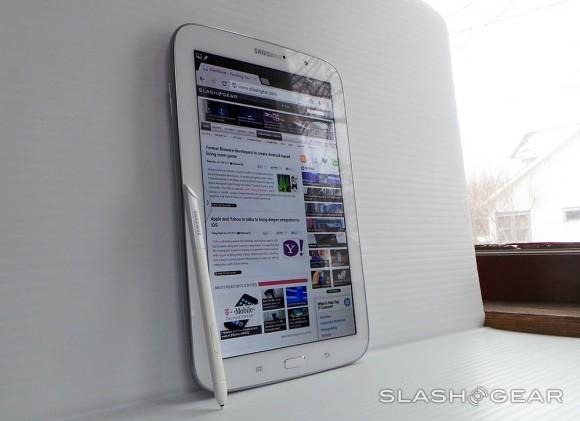 Meanwhile this device is, once again, small enough to fit into your purse, your backpack, or whatever kind of travel sack you've got on-hand. You'll find the device to match the aesthetic of the Samsung GALAXY S 4 you'll be purchasing this spring or summer and – for now – you'll be getting it in any color you like (just so long as it's white).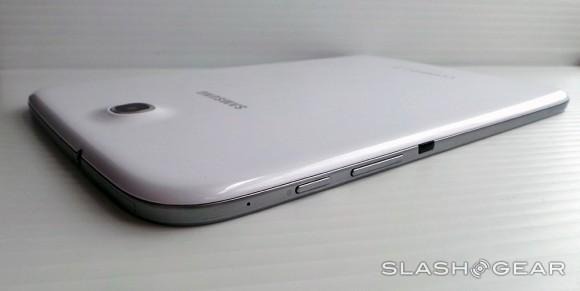 Remember also that this device is made of plastic and glass – the front panel is all reinforced glass while the back is a hard white shiny plastic. This device is not crash-proof in any way save the most basic of falls – you'll likely want to pick up a case and/or screen protector or two before you head out for a night on the town with the Galaxy Note 8.0.
Software
The S-Pen that comes with this device is at the center of the excellence of the software experience. Though the processor in this device is more powerful than any other Samsung tablet at this size, if you're not all about the S-Pen, you might want to consider a device like the Samsung Galaxy Tab 7.7 (see our full review here) for your money – its display is much sharper and the back casing is made of aluminum – hardcore! Of course the Galaxy Note 8.0 also has Android 4.1.2 Jelly Bean and all the positives that brings on – including Google Now.
With the S-Pen you can circle any piece of your screen and store it as a screenshot. Save it to a note and write about it to read about it later. You can add hand-written notes to your Office documents with Polaris Office, work on both Word and PowerPoint slideshows, and do it all in Multi Window view. With your Muli Window view you've now got the ability to watch a YouTube video while you draw a picture in S Note, move files around in My Files while you chat with your buddies in ChatON – whatever you like!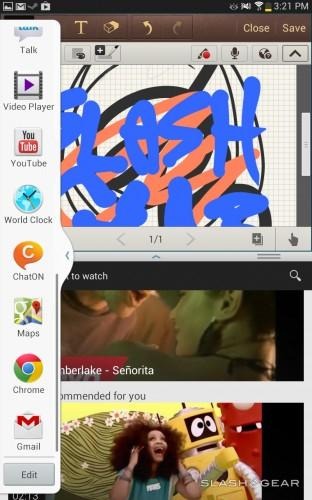 You can access a collection of Samsung Multi Window supported apps by holding down the device's back button – that little white tab you see can be pulled out and bam! There you'll see apps like Music Player, My Files, Polaris Office, S Note, and S Planner. Each of these apps can be run at half-screen, quarter-screen, or full-screen. This is separate from your basic Android app switcher (multi-tasking again, that is) which you can access with a long-press of your home button.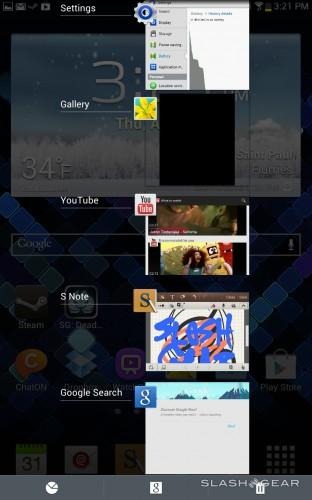 You'll also have access to Group Play, an app that's been part of the Samsung smartphone and tablet experience for the past couple of generations for smartphones and tablets. With this you'll be able to join up with other Samsung smartphones and tablets in your local wireless network and share a screen – the screen you have up will be the same screen they see from their device. You can share photos, music, PDF files, and even PowerPoint slideshows!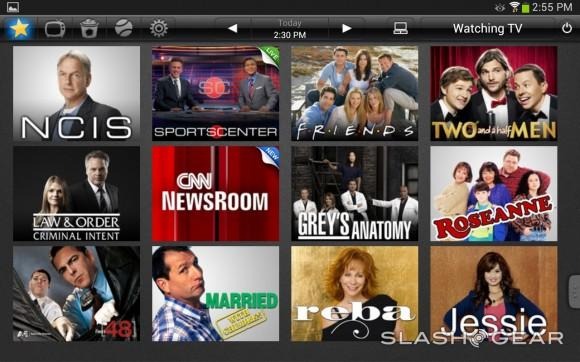 You've now got more than one app right out of the box that'll make use of your built-in IR-Blaster – that's the black piece of plastic sitting on the side of your tablet. With that you'll be able to control your television – and it's not only smart TVs that work! You'll simply have to choose your TV brand and go through a short troubleshooting session to get connected. Both Peel and WatchON are available now to bring you into your local television network's listings day-by-day.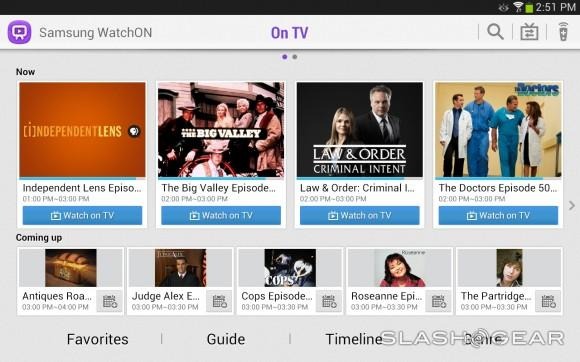 With WatchON you'll be given not only the day's television schedule, you'll be able to get notified of shows several days in advance and will have access to detailed information about the programs you've got coming up! Tap in and head directly to the channel you'd like to watch straight from the tablet! Of course if you've got a 2013 Samsung Smart TV, you'll have only to connect your TV and your tablet to the same wifi network – and you're off and running.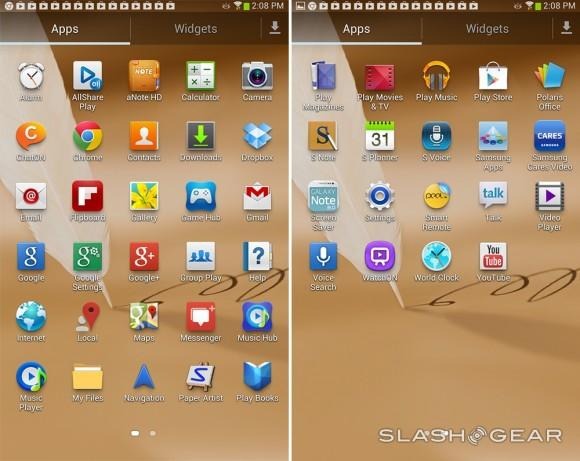 The Galaxy Note 8.0 has a special "Reading Mode" that auto-tunes your settings for optimal reading levels. You'll find the experience a bit more soothing to your eyes – you'll certainly not be seeing everything at full-blast brightness. Reading Mode is accessible in your normal Settings – Display section and works with only certain apps until you add your favorites in manually. Thus far the Reading Mode option has not proven itself to be the eyeball-saver a true E-Ink E-Reader would be, but it's fair enough, and nice to have as an option if you're in the mood.
Awesome Note is now prepared for Android and will come with your Galaxy Note 8.0 right out of the box. Imagine an app that has every single option you could possibly want out of a digital repository for notes – that's Awesome Note. Of course if you're already using Evernote, you might just want to skip the Awesome Note experience. If you want your notes to be extremely well organized and lit up with friendly rainbow colors, go with Awesome Note.
You'll find that this device busts out with its quad-core 1.6Ghz Exynos processor quite nicely – it's not going to top the newest smartphones on the market as it does have a bit more screen real-estate to work with, but it's certainly part of this current generation of multi-core beasts. Let us know in the comments below if there are any other tests you'd like us to run through other than the ones you see in the gallery above – we'd be glad to!
Camera
On the front of this device you've got a 1.3 megapixel camera and on the back you've got a 5 megapixel camera (with no flash). You'll be taking some relatively nice photos with the back-facing camera, and the front-facing camera's photos leave something to be desired. Like past Samsung tablets, this Galaxy Note 8.0 is able to take basic shots for uploading to social networks like Facebook, if that's your poison of choice, but it's certainly not something you'll want to bring to replace your pocketable camera for a long vacation. It's extremely likely that whatever smartphone you've got in your pocket takes better photos than this tablet.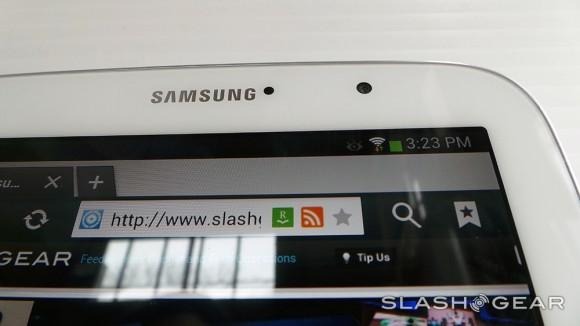 Have a peek at a few example shots above and below and see what you think – also take note that the back-facing camera protrudes somewhat – this isn't a tablet you'll be wanting to bang back-down on concrete, that's for sure.
Battery
If you plan on using this device non-stop from battery topped-off to battery zero, you'll be working for a good 6 hours. Without mobile data running your battery into the ground, and if you're not kicking out top-brightness or using your GPS to map the world, you'll have some rather great battery life with the Galaxy Note 8.0. When the device's display is off and you're not downloading files – aka when the device is idle – you'll find your battery drain flatlining.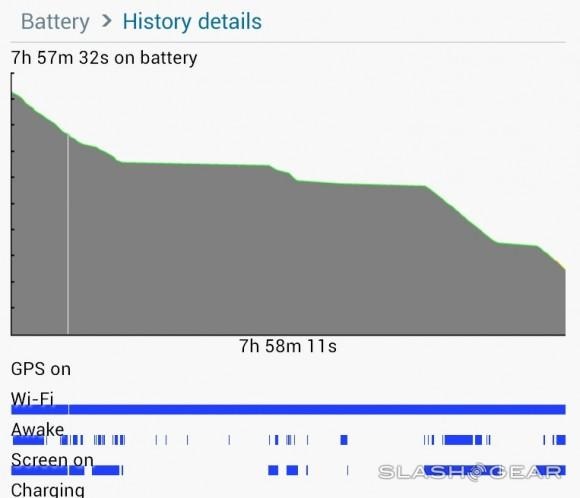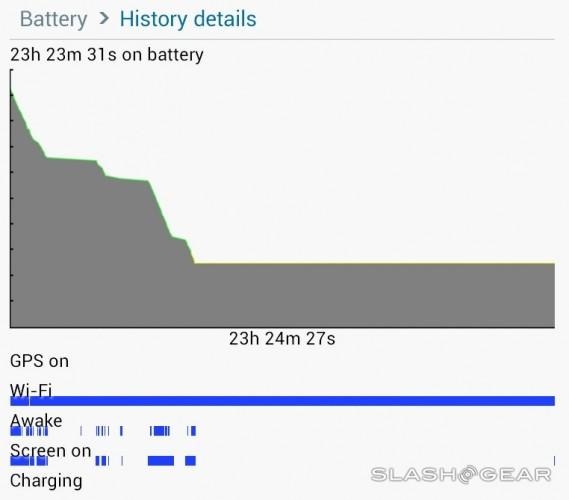 That means that if you don't use your tablet all that often, you'll find charging to be a rather rare activity. If your display is off and you've got no internet activity going on, this device basically uses no power at all. That's Samsung's own Exynos processor you've got to thank for such a thing. Power Saving mode helps, too.
Wrap-up
The Samsung Galaxy Note 8.0 is going to be your perfect Samsung GALAXY S 4 companion – it's got the same design aesthetic, it has a lot of the same features, and they both come in white! Of course when you find yourself marveling over the fact that the GALAXY S 4 is able to compete with this tablet for processing power, you'll be a bit baffled about your Note purchase. The S-Pen will save the day, on the other hand, as there's really nothing on the market that compares with what Samsung has done with this little value-added utensile.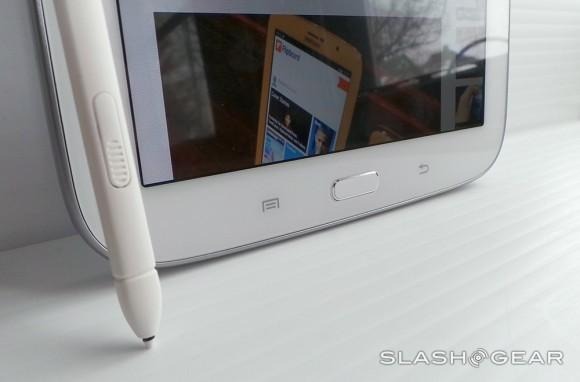 The price on the Samsung Galaxy Note 8.0 may be prohibitive to some at the outset – $399.99 USD (MSRP) in the USA starting in mid-April. If you're all about travel-worthiness, there's really nothing more all-inclusive from this manufacturer. Unless you want forward-facing speakers that don't get covered up by your palm when you're holding it (the Galaxy Note 10.1 has those) or a pocketable size (the Galaxy Note II has that if you've got big pockets). If you're set on getting one of Samsung's S-Pen-laden Note devices and you don't want it to be too big or too small, the Note 8.0 may be just your cup of porridge.