Samsung Galaxy Note 8.0 release live in USA April 11th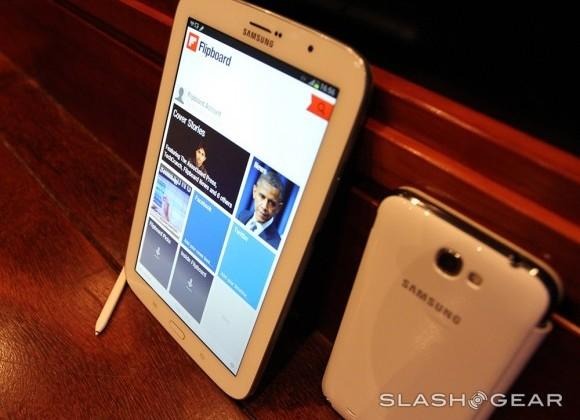 Welcome to the Samsung Galaxy Note 8.0 in its wi-fi edition, headed to the United States for release on the 11th of April for a cool off-contract price. This device is the latest in a line of Samsung Galaxy Note-branded smart devices, each of them either bordering between smartphone and tablet or heading straight for the gold with massive displays. With the Galaxy Note 8.0 you've got an 8-inch display and the all-powerful S-Pen that marks the uniqueness of the line.
This device is the same as the one we saw earlier this year in Barcelona at Mobile World Congress 2013, this time coming to the USA without its rather strange phonecall feature. Here in the USA you'll find a smart tablet from start to finish, bringing the power of the Galaxy Note II and the Galaxy Note 10.1 to an 8-inch tablet form factor. Inside you've got 2GB of RAM and an Exynos 1.6GHz Quad Core processor so you'll be rolling right with some of the most powerful apps on the market.
Included in your purchase you'll be getting 50GB of Dropbox cloud storage for 2 years (if you're a new member), 1 month of free unlimited streaming music from Samsung's Music Hub, and a $25 Google Play credit when you register your device. That's $25 USD worth of whatever you like from Google's own digital content store – you can buy apps with it, too, mind you!
This device will be available for $399.99 USD (MSRP) starting in mid-April wherever fine Samsung devices are sold. You'll be able to purchase a host of accessories that include Book Covers in white, pink, grey, or green, travel chargers, USB and HDMI adapters, and more! Have a peek at our timeline of Samsung Galaxy Note 8.0 features and hands-on posts below and let us know if you plan on picking this device up soon!