Samsung Galaxy Note 8.0 Hands-on and Unboxing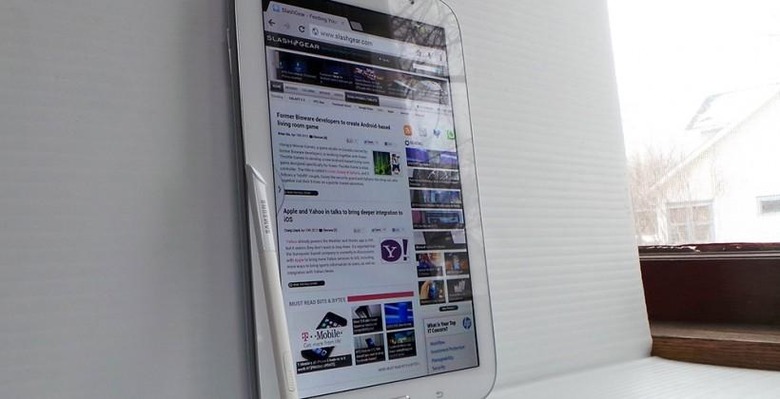 The Samsung Galaxy Note 8.0 is about to hit stores in the United States, and with it, Samsung's next push for a new display size attached to next-generation smart pen abilities. This device is essentially the larger wi-fi-only version of what we'll be seeing with the Samsung GALAXY S 4, hovering abilities and all. It might not have the same processor, and it might not be connected to mobile data, but it's certainly keeping with the friendly theme. UPDATE: See our Samsung Galaxy Note 8.0 full review now!
Here with the Galaxy Note 8.0 you've got an 8-inch display that's both bright and relatively sharp, 1280 x 800 pixel resolution working with TFT LCD technology and a connection to the newest in new S-Pen technology. The entire tablet measures in at 210.8 x 135.9 x 7.95 mm regardless of which version you've got while the weight will be ringing in at 340g for the wifi version (that being the one we've got here) and just 5g more for the 3G or LTE iteration (coming soon!)
This machine continues the tradition begun with the original Samsung Galaxy Note, employing a built-in "S-Pen" device that connects wirelessly to your tablet. You'll be able to hover over bits and pieces of your everyday Android experience to see previews or zoom-in, you can draw pictures galore in a lovely assortment of ways, and you can write all the notes you like. This device has all the features of the previous Galaxy Note devices and more – the closest you'll get to this experience outside this experience is in the Samsung Galaxy Note II.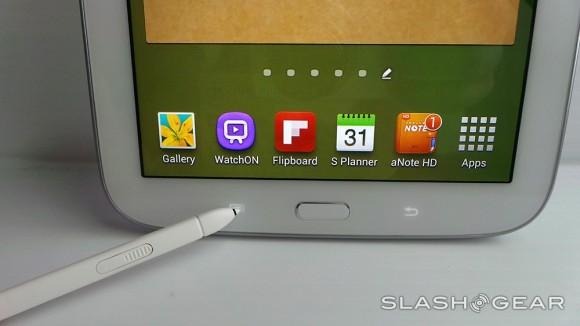 Below you'll see a set of three basic benchmark tests, each of them run without this device's "power save" mode activated. You'll find that with this display size and processor, the Galaxy Note 8.0 should be more than powerful enough to handle your everyday activities, be they gaming, productivity, or simple web browsing.
This device works with a 5 megapixel camera on its back, a 1.3 megapixel camera on its front, and is just large enough to feel a tiny bit awkward using while capturing photographs. We'll have photo examples for you later this week when we've posted the full review – the same goes for more detail on the software included here, and battery tests as well. Here we've got an additional gallery of up-close-and-personal photographs of the device for you to enjoy.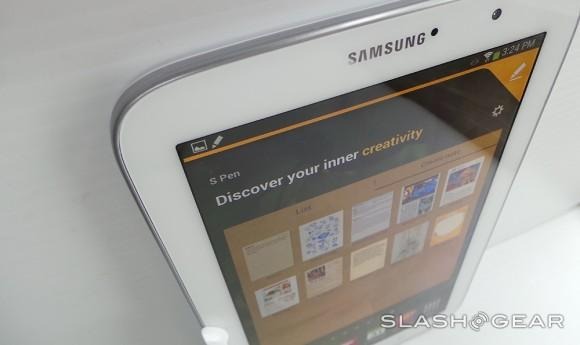 Let us know if you'd like any more information than you expect us to provide in the review and we'll do our best to make a fabulous review appear for you! Meanwhile hang tight and get ready for another look!