Samsung Galaxy Note 7 livestream details announced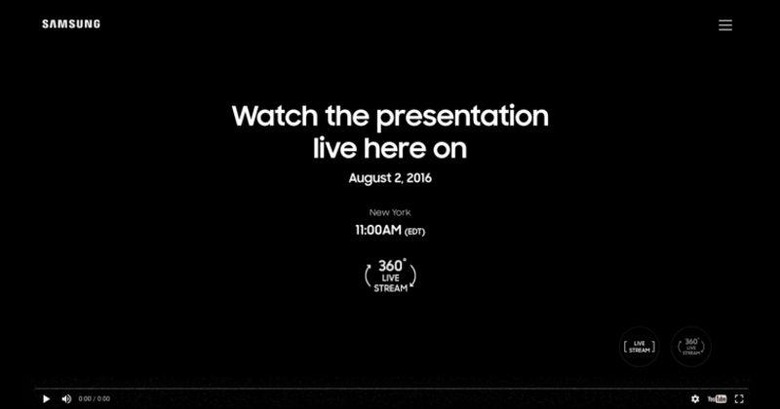 By now, there is almost nothing secret about the Galaxy Note 7, or Galaxy Note7 as Samsung spells it. Still, it will be interesting to see how all the rumors and speculation pans out when Samsung finally pulls off the veil on the 2nd of August. Of course, not all of us have the privilege of being there in person. But those viewing at home or elsewhere have at least one advantage over the live audience. They can view the entire event in 360-degrees, in a free, and maybe even disembodied, manner.
It's no longer new that companies live stream big announcements in order to reach as many people as possible while keeping costs low. Samsung has done it numerous times already for each new Galaxy S or Galaxy Note reveal, allowing people from all over the world to join in on YouTube.
What is new, however, is that Samsung is doing the live stream in 360 degrees, literally adding a new dimension to the remote viewing experience. It's definitely not the first to launch a smartphone in that manner, as OnePlus had that distinction last year with the OnePlus 2.
Samsung's advantage, however, is that already has a VR headset ready for that experience out in the market and in user's hands. Or heads. Naturally, the best 360-degree experience is being offered with the Gear VR, where users can download the "Unpacked 360" app from the Oculus store.
Even without a Gear VR, mobile users can still enjoy a somewhat untethered view of the events by watching on their mobile phones. Android users can browse to http://www.samsung.com/galaxy or watch the event from Samsung's YouTube channel. iOS users are confined to only the YouTube app. When all else fails, anyone can watch on a desktop or laptop through their browsers.
Samsung's Unpacked event is scheduled to take place on August 2nd starting 11:00 a.m. EDT, with simultaneous coverage in New York, London, and Rio de Janeiro.
SOURCE: Samsung