Samsung Galaxy M10 And M20 Deliver Waterdrop Notches On A Budget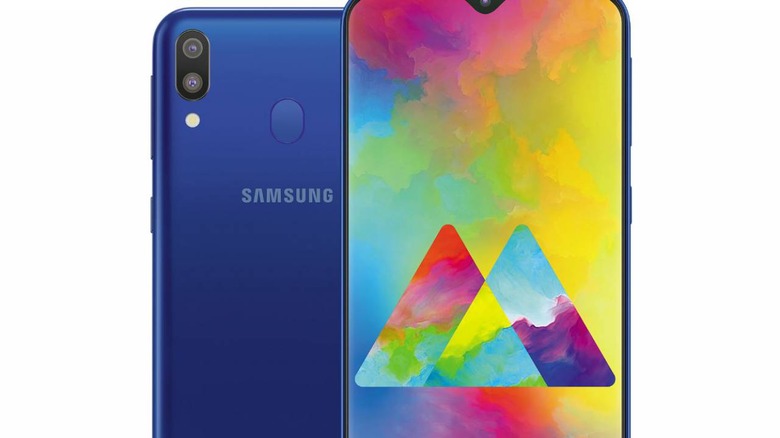 For a couple of months now, we've been hearing about Samsung's Galaxy M, which was rumored to be a line of budget phones destined for India. Today, Samsung India officially revealed the Galaxy M10 and M20, putting truth those reports. Just as we heard leading up to this reveal, Galaxy M phones are indeed budget devices, and Samsung is targeting "young millennials" with their release.
Right away, one of the things that stand out about the M10 and M20 are their Infinity V displays that sport a waterdrop notch. Rumor has it that Samsung is plotting a hole-punch cutout for the front-facing cameras on the upcoming Galaxy S10 line, so that waterdrop notch on the Galaxy M is certainly an interesting sight.
As their names would suggest, it seems that the Galaxy M20 is the more capable phone of the two. It'll launch in two different configurations: one with 3GB of RAM and 32GB of storage, and a second with 4GB of RAM and 64GB of storage. The former will set consumers back INR 10,990 ($154), while the latter clocks in at INR 12,990 ($182) so both are fairly affordable phones.
Regardless of RAM and storage configuration, the Galaxy M20 ships with a 6.3-inch FHD+ display and a 5,000mAh battery, which should provide a good amount of screen on time considering the display and CPU – an Exynos 7904 octa-core processor – it's powering. Both the M20 and the M10 have a dual-rear camera with a 13MP F1.9 main lens and a 5MP ultra-wide lens – nothing too spectacular, but it should get the job done nonetheless.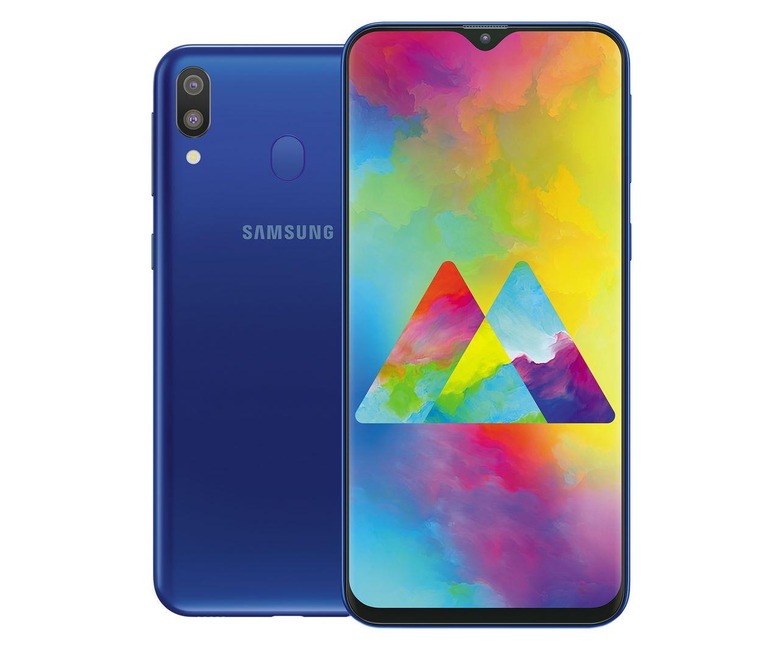 The M10, on the other hand, is priced lower than the M20 but obviously makes some sacrifices to get there. Again launching in two models, the M10 will cost INR 8,990 ($126) for 3GB of RAM and 32GB of storage, or INR 7,990 ($112) for 2GB of RAM and 16GB of storage. While 2GB of RAM and 16GB of storage are paltry amounts by flagship standards, it's hard to argue with a phone that flirts with a $100 price tag.
Samsung says that the M10 uses a 6.2-inch HD+ display, so we can expect a knock to resolution there. It's also using a an Enynos 7870 octa-core processor, and unfortunately, Samsung didn't divulge details about the size of the battery in the M10. While the M20 supports both fingerprint and face unlock, the M10 doesn't ship with a fingerprint scanner and therefore only offers facial recognition. It's worth pointing out that both phones also include a microSD slot, so if you opt for the cheapest M10, you can at least expand upon its 16GB of onboard storage if you need to.
Both of these phones will be launching in India on February 5 through a partnership with Amazon. No other regions have been confirmed at this point, suggesting that the Galaxy M10 and M20 will be India-only phones. With the reveal of the Galaxy S10 looming, we probably can't expect the Galaxy M to spread to other regions beyond India, but regardless, we'll let you know if that changes.