Samsung Galaxy K zoom arrives with 20.7MP OIS camera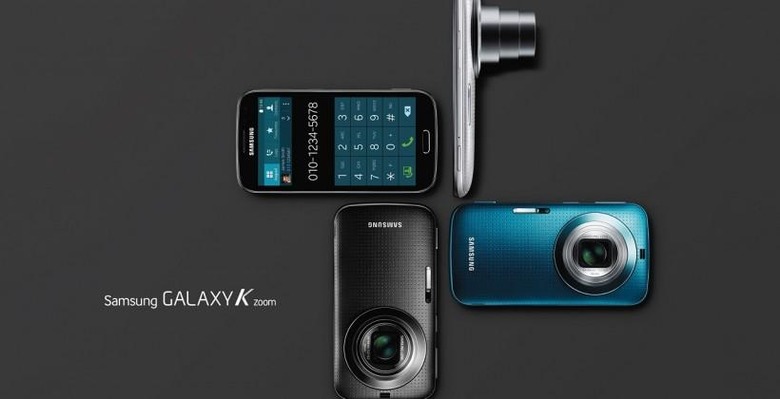 Samsung has taken the wraps off its photography-centric handset, the Galaxy K zoom. With this latest offering comes a 20.7-megapixel camera and an array of features not typically found on a smartphone, such as optical image stabilization. We've got a video and gallery of the device after the jump.
The camera is obviously the Galaxy K zoom's most notable feature, offering 10x optical zoom for taking zoomed-in pictures without the degradation of digital zoom. The sensor is a 20.7MP BSI CMOS offering, which Samsung hails as "excelling" in low-light shooting environments.
In addition, the camera also features a Xenon Flash, which is brighter than an LED flash. There's both Auto Focus and Auto Exposure Separation, as well as a Pro Suggest mode that dishes up 5 optimized settings if desired. Touching upon its smartphone foundation, there's also a Selfie Alarm for timed selfies.
The camera feature aside, the Galaxy K zoom has a 4.8-inch HD Super AMOLED display with a 1280 x 720 resolution. There's a 2.0-megapixel camera on the front for chats and such, and the expected sensors: accelerometer, gyro, proximity sensor, geomagnetic sensor, and light sensor.
Under the hood, the smartphone offers a 1.3GHz quad-core and 1.7GHz dual-core processor, as well as 2GB of RAM, 8GB of internal storage space, and a microSD expansion slot. Connectivity includes Bluetooth 4.0 BLE, 802.11 a/b/g/n, and NFC.
Said Samsung's Senior VP of the mobile business, Sun Hong Lim, "With the introduction of the Galaxy K zoom, Samsung continues to demonstrate our commitment to creating products that meet the diverse demands of our consumers. The new Galaxy K zoom empowers users to effortlessly capture and share their most important everyday moments in stunning clarity, with the convenience and connectedness of a Galaxy smartphone, for a unique, all-in-one mobile experience."
SOURCE: Samsung Tomorrow