Samsung Galaxy J3 (2017) budget phone arrives at AT&T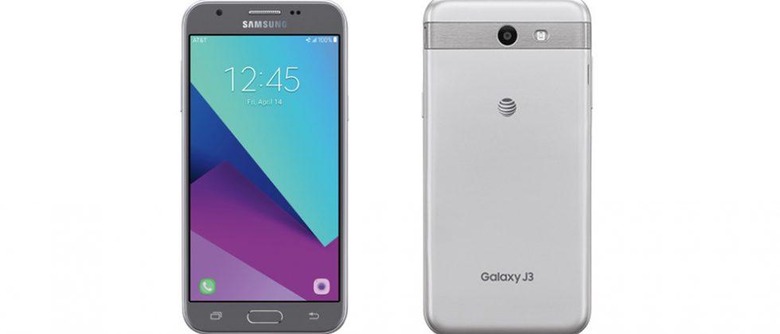 The 2017 version of the Samsung Galaxy J3 has officially launched at AT&T, replacing last year's model and giving budget customers a new low-cost smartphone from the Korean company. This handset features a classic Galaxy style (on the front, that is) with a light gray color and a price tag that can please just about anyone: $179 USD outright or $6/month.
Given the price, it's no surprise the Galaxy J3 is a modest phone as far as specs go. Users can expect a decent 5-inch display with a 1280 x 720 resolution, as well as a Samsung Exynos 7 Quad 7570 1.4GHz quad-core processor, 1.5GB of RAM, and up to 16GB of storage. For those who need more storage capacity, the phone also has a microSD card slot that supports cards up to 256GB.

All of this is joined by a 2600mAh battery offering up to 23 hours of talk time and up to 17 days of standby time. Sensors, meanwhile, cover the expected bases: proximity, accelerometer, and gyroscope. As far as connectivity goes, the Galaxy J3 2017 model has 802.11b/g/n 2.4GHz WiFi support, Bluetooth 4.2, and quad-band support. The phone has a mobile hotspot feature that supports up to 10 devices, and also boasts a noise suppression feature with tech from NXP Solution.
Meanwhile, users can expect to find some preinstalled software including AT&T Call Protect, WiFi Calling, AT&T Protect Plus, Uber, Facebook, Samsung Browser, DirecTV, AT&T Smart WiFi, AT&T App Select, DriveMode, Smart Help, Smart Limits, and YPmobile, among other things. That's a lot of bloatware, but you can uninstall some of it by factory resetting the phone when you receive it.
SOURCE: AT&T