Samsung Galaxy Home Mini throws pre-launch shade at Siri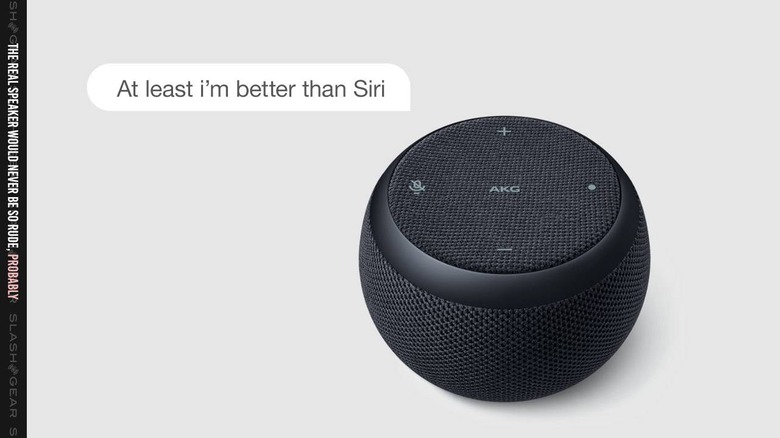 The Samsung smart speaker called Galaxy Home Mini leaked in a release-ready configuration today tossing a jab at Apple's smart assistant Siri (unofficially, of course). The video comes courtesy of an unnamed source* who would appear to have been at a location where several new Samsung products were being shown. This new smart speaker will apparently allow you, the user to "make it say literally anything you want" – like what we see in the video below: "At least I'm better than Siri."
A big leak of the Samsung Galaxy Home Mini today (in its latest configuration, after an early showing last year) shows that the smart speaker would appear to be ready to take on the biggest names in smart home speaker technology. That'd be the Amazon Echo with Alexa, the Apple HomePod with Siri, and the Google Home (or Google Nest Mini, if you prefer) with Google Assistant. This speaker looks to be about the size of a Google Home (the base part), or an Amazon Echo Spot.
— Max Weinbach (@MaxWinebach) February 9, 2020
This little speaker is capable of some interesting things, if these leaks prove entirely accurate. One feature that'll set this speaker aside from the competition is an IR blaster. Found in screenshots shared by *the same source as the video above with XDA Developers writer Max Weinbach, we see "IR Remote" functionality – with a blaster emanating from the head of the speaker – with a 40-foot range for blasting.
This system would allow the user to make commands of the speaker – with "SmartThings and Bixby voice commands", of course – to control devices within 40 feet of the speaker. This system works best, says the leaked screenshot, when the Galaxy Home Mini is "in an open area with a direct line of sight to all the devices you want to control."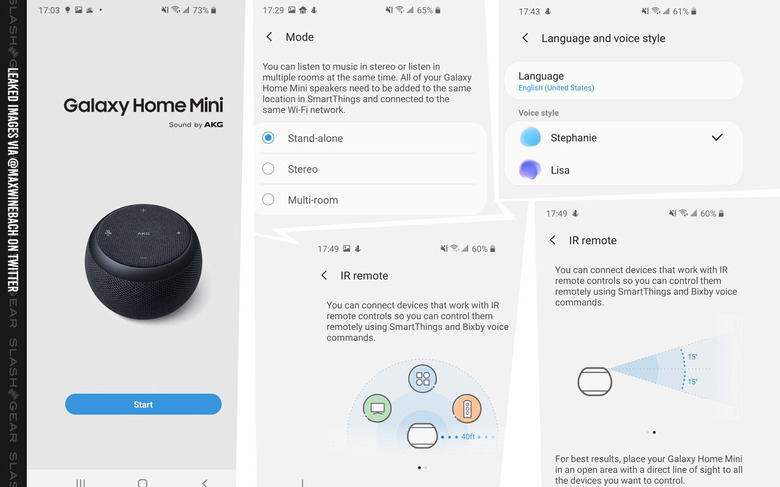 Right out the gate this speaker appears to have two voice styles for English (United States) – one Stephanie, the other Lisa. There's no hardware line out – no wired headphone jack – but you can connect out with Bluetooth, so you can use this as a non-smart speaker as well. Because the device has speakers and microphones, you can connect to your phone to use the Galaxy Home Mini as a speakerphone.
It would seem that multiple Galaxy Home Mini speakers can be connected to the same "location" with Samsung's SmartThings (smart devices system) and connected to the same Wi-Fi network... so they can work together. They appear in this leak to be ready to work in three modes: Stand-alone, Stereo, and Multi-room.
The Samsung Galaxy Home Mini will quite likely cost right around $99 USD. We'll likely see this device appear during Samsung's event on February 11, 2020 – that's tomorrow. That event will also quite likely play host to devices like the Samsung Galaxy S20 and friends – complete with 5G action and so forth. We'll be there with bells on, so stick around!