Samsung Galaxy Fold Pre-Orders Tease Free Tacos At T-Mobile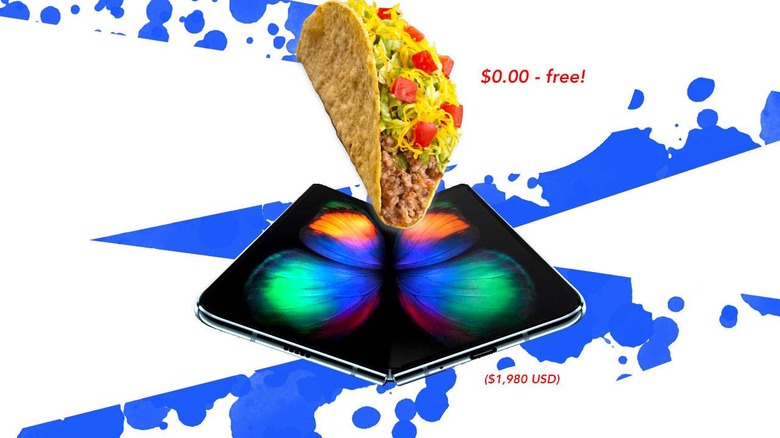 Just in case you were on the fence deciding whether to pay $2k for a new phone, T-Mobile USA wants to give you tacos! The Samsung Galaxy Fold's official quoted price so far, from Samsung, is approximately $1980, but T-Mobile USA wants to grab your attention away from such small pre-order details with their service called T-Mobile ONE. Buying a Galaxy Fold with T-Mobile ONE gives users benefits like one free taco on a T-Mobile Tuesday.
The Samsung Galaxy Fold is coming to the United States on April 26th, physically, in stores. It'll also be put on pre-order through Samsung as early as tomorrow (April 12th), but easily the most interesting part about the whole situation is how T-Mobile is choosing to promote their unique version of the device.
At T-Mobile USA, the Galaxy Fold will be available in Space Silver with 512GB internal storage. This version of the phone comes with "a free carbon fiber case" as well as a pair of Wireless Galaxy Buds (wireless earbuds from Samsung). This version of the phone will be put on sale on T-Mobile's online store starting on April 25th at 9PM PT. Or, again, you could just wait until morning and go get one in a physical store.
T-Mobile is promoting the smartphone with its T-Mobile ONE program. With this program, users will get unlimited data, talk, and text messages. Users will also find "rad deals from T-Mobile Tuesdays like free tacos, access to exclusive Ariana Grande stage-front tickets and a subscription to MLB.tv."
The tacos part gives you the ability to obtain one singular taco from Taco Bell every week (however long the promotion lasts) with a special app. The app allows you to order a taco, then go in to the store and pick up said taco for free. If you attempt to get the taco without the app, or without ordering in advance of stepping in the store, you will not get a free taco. One taco per week, says the rules, and void where prohibited!
There's a Galaxy Fold sign-up page out there this afternoon that'll lead you to an extra-early pre-order. That'll allow you to reserve the Galaxy Fold earlier than everyone else, starting on April 12th, 2019. The official in-store date for the smartphone is April 26th at AT&T, T-Mobile USA, Best Buy, and Samsung Experience Stores across the USA – at select locations.