Samsung Galaxy Fold Game of Thrones edition: Isn't that odd?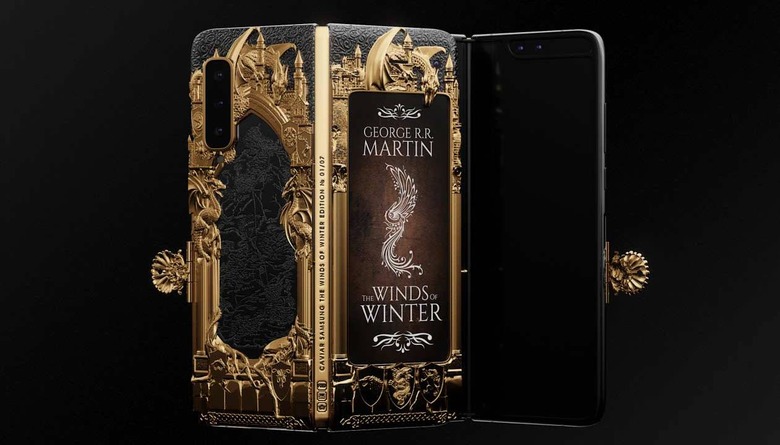 The folks at Caviar got their hands on a Samsung Galaxy Fold and decided to bring the bling. They've crafted a gold renditioning of the phone, a reconditioning of the phone, maybe even a remixing of the phone, in Game of Thrones TV show styling. This version of the Samsung Galaxy Fold is also aimed at fans of the next book by George R. R. Martin: The Winds of Winter.
Much like previous hyper-expensive versions of smartphones of all sorts, we've got to put a disclaimer on this. We do not know if the final product will ever be seen. But the people who make these products seem to have stayed in business for an age – so they must be doing something right?
The Game of Thrones Edition Samsung Galaxy Fold can be pre-ordered through "Caviar Royal Gift" for a cool $8200 USD. That's Eight Thousand, Two Hundred Dollars. It's enthroned in a volumetric bas-relief covered with gold, shaped to represent several major houses of Westeros.
Up top you'll find the dragon, and near the bottom you'll find the lion, the dragon, and the wolf. On the rear of the phone you'll find an etched map of Westeros from the A Game of Fire and Ice book saga. The rear of the phone has another gold frame with a similar dragon up top and different figures throughout.
The interior remains unadorned so as to leave the folding display unaffected by any sort of decoration. This design also employs a latch to keep it shut when not in use.
As the television show Game of Thrones is as popular now as it'll ever get, the presentation is focused on that title. The phone, however, focuses on the next George R.R. Martin book on which the television show is based: The Winds of Winter. You'll see this title on the side of the phone (the spine of the phone, as it were), as well.
Since the user will be purchasing a phone for more than eight thousand, two hundred dollars, they'll be glad to know that this is an edition of just seven. Only seven of these devices, with this design, will ever be released by Caviar. As if the chances of two people getting this same device were in any realm of possibility.
Also, yes, this is a version of the phone that's not necessarily been fixed by Samsung before final production. We can assume the final product will use one of Samsung's final products, with fixed display mechanism – anything less would be untoward.