Samsung Galaxy Fit Health And Sleep Tracker Hits Stores For Under $100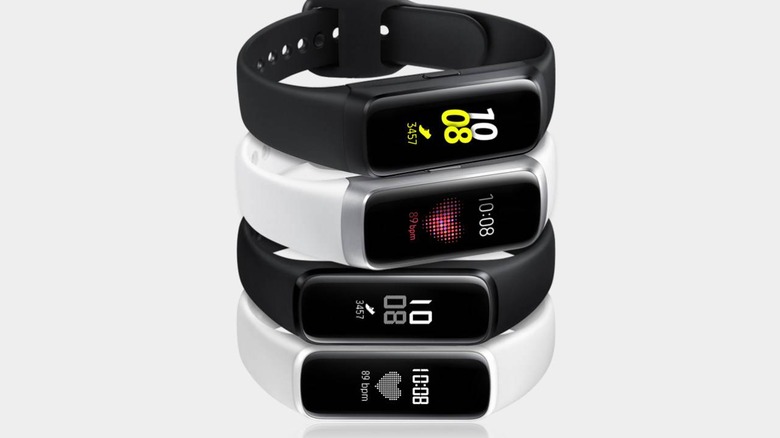 Samsung's Galaxy Fit wearable is reaching store shelves, with the fitness tracker promising to be a lightweight, smarter way to track exercise without breaking the bank in the process. Announced alongside the Galaxy Watch Active and the Galaxy Buds – together with the Galaxy S10 family – back in February, the Galaxy Fit looks more like a Fitbit than a smartwatch.
That pays dividends when it comes to size and weight. Indeed at 23 grams (0.81 ounces) it's probably small enough to wear alongside a traditional watch, if that's your preference.
It leaves space for a compact 0.95-inch display, with full color, 120 x 240 resolution, and Gorilla Glass on top to protect it. Connectivity comes courtesy fo Bluetooth 5.0 LE, while there's an accelerometer, gyro sensor, and a heart rate sensor. The battery is a mere 120 mAh, but Samsung says that it should still last for up to a week on a charge.
That will depend on what, exactly, you're doing with the Galaxy Fit, of course. There are 90 different types of exercise it can track, spanning the gamut from casual workouts through to more serious training. If you're walking, running, cycling, on an elliptical or rowing machine, or doing dynamic workouts, the wearable can automatically spot you've started and begin logging your performance by itself, too.
When you're not working out, there's general movement and sleep tracking too. Data is synchronized with the Samsung Health app, collated there with any health and nutrition, water and caffeine intake, and any other fitness data you choose to record. Samsung says the wearable will also help track stress, too.
While it may not be as fully-functioned as a normal smartwatch, you do still get the core functionality. The Galaxy Fit can show alerts and messages from your smartphone, along with alarms, the calendar, and weather. It's designed to be smarter than the typical fitness band, too, offering features like automatically switching to a dual-clock watch face when you're traveling so that you can see the time both local and back home.
Both black and silver versions of the band are available, and each is water resistant to 5ATM. That means they're okay to use in the rain, when showering, or in shallow-water activities like swimming in a pool, but not for more serious diving. The Galaxy Fit is available now, priced at $99.99.