Samsung Galaxy Fit revealed: automatic activity tracking and sleep analysis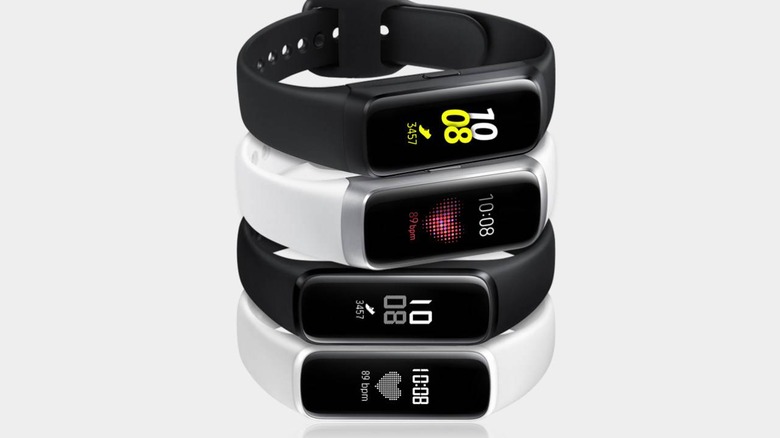 Joining its newly unveiled smartphones are new wearables from Samsung, including the Galaxy Fit and Galaxy Fit e. These smart bands are targeted at fitness enthusiasts — everyone from casual runners to dedicated athletes. Both devices are designed for comfort over long periods of time, offering automatic activity tracking alongside sleep analysis, message alerts, and more.
Fitness bands offer something of a compromise between larger, bulkier smartwatches and basic movement trackers, combining key features from both for connected, intelligent activity tracking without the burden that comes with a full smartwatch. The Galaxy Fit and Fit e both feature small displays embedded in a slim band and automatic activity tracking.
Users can trigger a 'general dynamic workout,' according to Samsung, which explains that users can manually choose from more than 90 specific activities using the related Samsung Health mobile app. Both models likewise include a feature Samsung calls 'smart stress management' and an 'enhanced' sleep analysis ability.
Samsung promises users a simple user interface that offers an overall smart experience. In addition to tracking activity, the Galaxy Fit issues alerts from a paired smartphone, including ones involving weather, alarms, messages, calendar events, and more.
Another feature shared between the two models is a 5ATM water-resistant design that helps protect the wearable from moisture while, for example, out running or working up a sweat. In addition, the Galaxy Fit model has the ability to automatically present a second clock on the display when the user travels into a new time zone, enabling them to see both their own and regional times at a glance. The model can run a full week on a single charge.