Samsung Galaxy Core Plus joins downward trend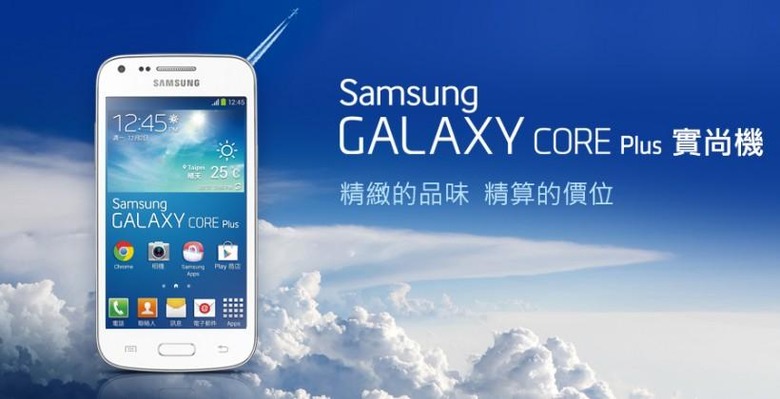 We may receive a commission on purchases made from links.
Today Samsung has introduced a device by the name of Galaxy Core Plus, just the newest in a line of devices from most manufacturers that works with a set of specifications that appear to be a downgrade from their predecessors. While this may seem especially curious given the name (they've added a "Plus" to its predecessor's title), Samsung does appear to be following the grand scheme of things. Devices are getting less expensive and the innards of phones are powering down, not up.
Could it be that we've hit the apex of average smartphone power? What we've got here is a perfect example of how Samsung is participating in a general understanding of the idea that consumers do not care what's inside their devices, just so long as they work how they expect them to.
With the Samsung Galaxy Core Plus you'll be working with a 4.3-inch display, a 1.2GHz dual-core processor, and a 5-megapixel back-facing camera. As pointed out by Android Beat, the only thing truly different about this "Plus" version of the device is the amount of RAM it holds. While the original Galaxy Core had 1GB RAM, this Galaxy Core Plus works with 768MB RAM.
Is that baffling to you? It's also been suggested that this push has been made to make best use of their output of 768 MB RAM chips due to their inclusion of said chips in the Samsung Galaxy Note 3 and Galaxy Note 10.1 2014 edition – they've each got several of these chips to kick the whole unit up to 3GB of RAM.
Meanwhile the device costs effectively the same price as the original – and we're all headed to a place where phones are "good enough" rather than the best they possibly could be. Have a peek at the recent word from IDC on the end of the Spec War and the fall of average prices of phones over the past year.
SOURCE: Samsung