Samsung Galaxy Core LTE Bringing High Speeds In Familiar Package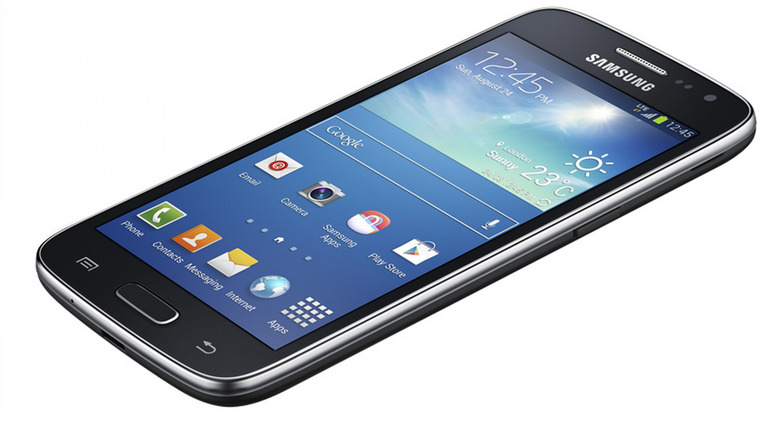 It's time for another display size in the Samsung family with the Samsung Galaxy Core LTE, a device that, in some sectors, will be called the Samsung Galaxy Core 4G. This device works with a qHD display – that's quarter-HD, not QUAD-HD, meaning here that it's got a display size of 960 x 540 pixels. This machine's display is also 4.5-inches large with PLS TFT LCD display technology.
Inside you're going to find Android 4.2.2 Jelly Bean "Plus", as Samsung calls it, with a 5-megapixel camera on the back with Automatic Focus and a single LED flash. The front of this smartphone works with a VGA camera for video chat, and you'll have a single physical home button between two capacitive buttons like the Samsung Galaxy S4.
Inside you've got 1GB RAM as well as 8GB built-in storage as well as a microSD card slot capable of carrying 64GB more. This device is slightly smaller than the Galaxy S4 at 132.9 x 66.3 x 9.8 mm and carries a battery 2100mAh in size.
The big deal with this smartphone is its ability to connect using an LTE Category 4 network. This means that you'll be rolling extremely quick in LTE Category 4 networks in the relatively small portion of the world where this network is already available. This device will be available in Russia and select areas of Asia in both white and black.
We'll also be seeing this device up close and personal at Mobile World Congress 2014 more than likely. Have a peek as we get hands-on experience with the whole lot next week!