Samsung Galaxy A80 skips the notch with a mesmerizing pop-up rotating camera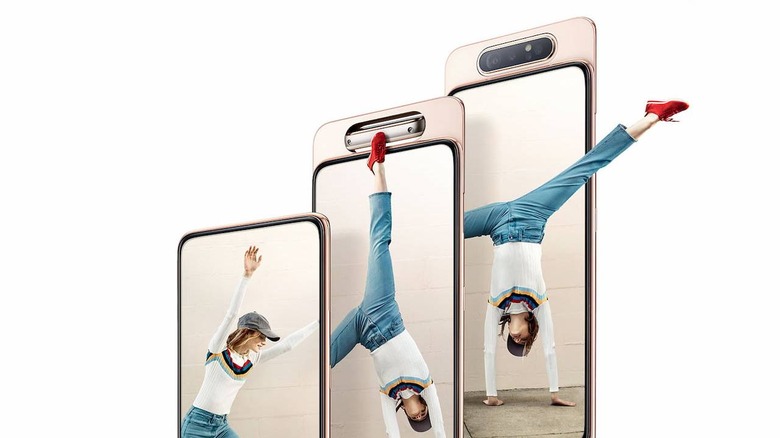 Samsung today revealed the Galaxy A80, and though it may not have the high-end hardware of something like the Galaxy S10, it's still likely to turn some heads. That's thanks to the A80's rotating pop-up camera, which removes the need for a camera embedded in the front panel. That, by extension, means that the Galaxy A80's display doesn't have a notch or a hole punch cutout, making this phone look particularly sleek.
Of course, this was an announcement we knew was coming. Shortly before Samsung revealed the phone this morning, specifications popped up on Geekbench, so this isn't quite the surprise announcement Samsung was likely hoping for. Even then, the leaked Geekbench specifications obviously don't say anything about that rotating camera, so at least that part was a surprise.
In any case, the Galaxy A80 is outfitted with a triple camera that's comprised of a main 48MP lens, a 3D depth lens, and an ultra-wide 8MP lens. Since the camera pops up from behind the phone and can rotate to face forward, that array serves as both the rear-facing camera and the selfie camera, allowing it to take consistent pictures regardless of the direction it's facing. It's a neat solution to the problem of notches and hole punch cutouts, and we wouldn't be surprised to see it come to other Samsung phones in the future.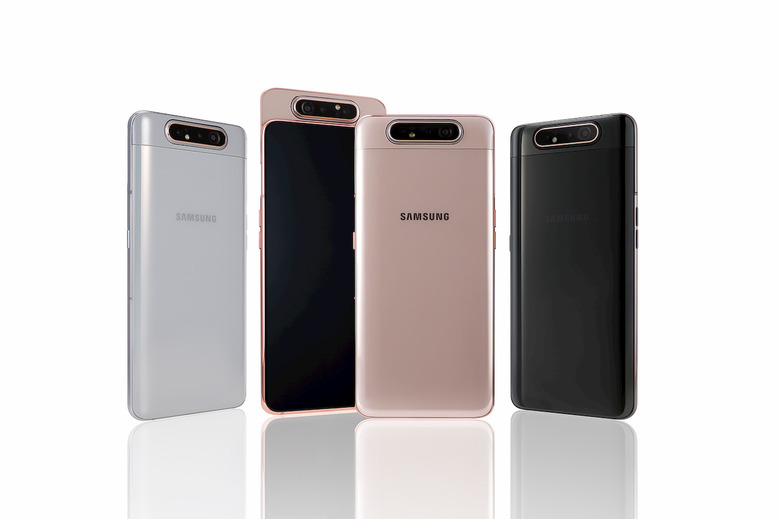 As for the rest of the phone, the Super AMOLED display clocks in at 6.7 inches and outputs at FHD+ (1080 x 2400) resolution. The A80 is outfitted with 8GB of RAM – another surprise for a mid-range device – and 128GB of storage, which unfortunately can't be expanded upon as the phone doesn't have a microSD slot. There's an unnamed octa-core processor at the core of the A80, with two of those cores clocked at 2.2GHz and the other six clocked at 1.8GHz.
The A80 also supports on-screen fingerprint and is powered by a 3,700mAh battery that's capable of 25W super fast charging, so in the end, we've got a pretty capable device on our hands. Pricing details weren't revealed today, but with a launch date of May 29th, we'll likely know how much the Galaxy A80 will cost soon enough. Stay tuned for more, and while we wait for additional details, head down to the comments section and let us know what you think of Samsung's latest.