Samsung confirms Galaxy Note 9 update to Android 10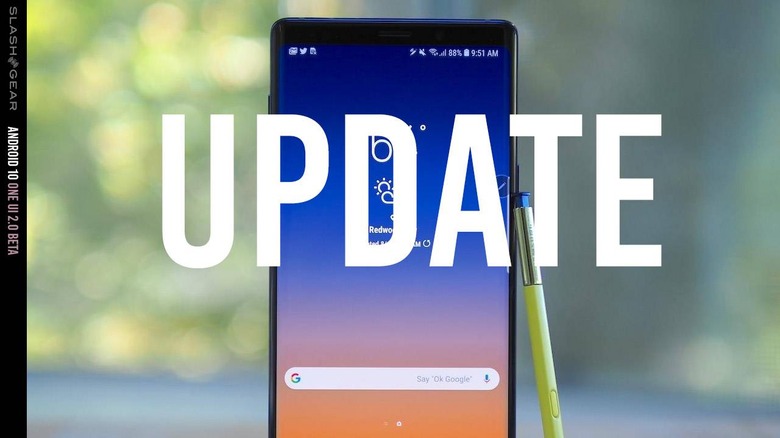 We may receive a commission on purchases made from links.
Samsung decided to grace the Galaxy Note 10 and the Galaxy S10 with their latest One UI 2.0 Beta software, and along with it, Android 10. This information comes after earlier tips that the software was distributed to testers – and will now roll out to the two biggest 2018 smartphones to've been released by Samsung. This information comes straight from Samsung Korea, where they've given the first official word on the matter.
Word appeared on the Samsung community site in Korea. There the Galaxy Note 10 2nd Beta Experience was discussed right alongside confirmation that the first Beta experience for Galaxy Note 9 will start "early this week." Via SamMobile today it's now clear that the behind-the-scenes testing of Android 10 for both the Galaxy Note 9 and Galaxy S9 has come to a head.
The date for rollout for the Galaxy Note 9 with Android 10 via One UI 2.0 Beta starts this week in Korea – but it won't necessarily arrive for the rest of the world for another several weeks. It's possible this update may not make its way to all markets – but given the importance of said update on these very highly-used and widely-distributed smartphones, it's a pretty good bet that Samsung's aiming for as large a roll-out as possible.
If you drop in on our recent feature Samsung One UI 2.0: Key differences you'll notice, you'll see how important this software update is, right out the gate! This situation was tipped most recently on November 11th where we discussed how the firmware for Galaxy Note 9 coded version N960FXXU4ZSK2 meant that the Android 10 update was coming soon.
Given the similarities between the two flagships, there's little doubt that if one gets One UI 2.0, the other won't be far behind – so we're expecting Galaxy S9 right on the Note 9's tail with more than just in-code proof from Samsung. Beyond Samsung literally sending said software to said phone, the note on the Note 9 is all the proof we need to make the early call!