Samsung CL65 12.2MP digicam with WiFi, Bluetooth and GPS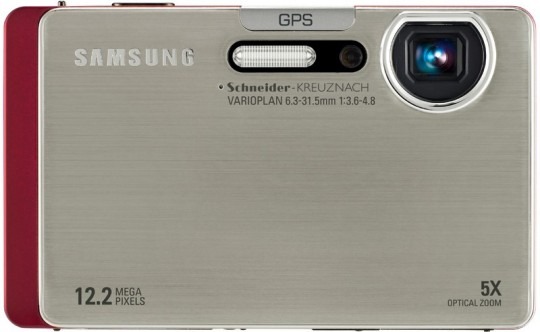 Samsung have unveiled a new digital camera, the CL65, ostensibly a point-and-shoot but one which manages to squeeze WiFi, Bluetooth 2.0 and GPS into an 18.9mm thick frame.  The 12.2-megapixel CL65 has a 5x internal optical zoom together with Schneider-Kreuznach optics and a 720p HD video recording mode.
As for its WiFi and Bluetooth 2.0, they're both DLNA compliant and can be used to display images on networked media players and HDTVs.  Alternatively the WiFi connection can be used to upload images  - albeit in reduced, 2-megapixel resolution – and video to Facebook, YouTube and Picasa, among other sites.  Only non-verified (i.e. not hotspots which require you to enter a password) are supported; you can also email images and video directly from the CL65's 3.5-inch touchscreen, which supports "Smart Gesture" input.
GPS is used to geotag images, and there is the usual face recognition, smile/blink detection, touch-to-focus and dual optical/digital image stabilization.  An optional HDMI adapter should make hooking up to a wired HDTV more straightforward.  The Samsung CL65 will land in the US come September, priced at $399.99.
Press Release:
Samsung Leads the Way in the Digital Camera Evolution

Samsung Electronics America, Inc., today unveiled the Samsung DualView Cameras – the TL225 and TL220 – as well as the CL65. These three new compact devices are highlighted by innovative new features, groundbreaking technology, ease-of-use and design. Representing the next step in the evolution of the digital camera, the Samsung TL225, TL220, and CL65 give consumers a whole new approach to personal photography.

Delivering twice the fun of any other compact digital camera, Samsung DualView Cameras, the innovative TL225 and TL220, truly put the photographer in the picture. Samsung DualView Cameras feature Dual LCDs with one on the front of the camera and another one on the back. Embracing the latest consumer trends, Samsung's new CL65 provides unprecedented connectivity as it incorporates geo-tagging, Bluetooth 2.0, DLNA, and Wi-Fi* capabilities, giving social networkers the ability to share their images while on the move and breaking the confines of uploading and sharing content in the traditional way.

"Today's product launch is an important milestone for Samsung, reinforcing our position as a leading innovator in the digital camera market and setting a new benchmark for digital camera technology," said Sang Jin Park, Chief Executive Officer of Samsung Digital Imaging Co. Ltd. "It is our goal to continue to lead the evolution of the industry while delivering a first-class consumer experience through ease-of-use and the design of our 'Smart Cameras'. We've listened to what consumers want and need, particularly in the social networking field, and I consider these latest products to surpass even the highest expectations of today's budding photographer, providing fun and excitement to the user."

Samsung CL65

With the ability to capture and share photo memories on the move, the Samsung CL65 allows users to truly connect with family and friends. Packed full of innovation and encased in a sleek compact frame, the CL65 incorporates an unprecedented combination of geo-tagging technology, Bluetooth 2.0, DLNA compatibility, and Wi-Fi connectivity options.

The camera's wireless functionality enables users to send and post pictures almost as quickly as they take them, while its GPS capabilities keep track of where users travel, giving them the ability to manage their images intelligently with geographical location data embedded directly into each corresponding EXIF file. With the increasing importance of content sharing for consumers, the CL65 provides an unrivalled experience and is a great way to keep one's network of friends and family in the know.

The CL65's built-in geo-tagging allows users to record the details of the location and time the image was taken. Bluetooth 2.0 allows images to be distributed wirelessly to supporting devices such as mobile telephones, and Wi-Fi means that users can now email photos directly from their camera and upload their photos or videos to popular social networking websites, including Facebook®, Picasa™, and YouTube®. The camera's DLNA compatibility also allows it to wirelessly connect to another DLNA compatible device, such as an HDTV, within a user's networked home to view and share their precious moments.

Introduced to the world via a series of themed events in New York, Beijing, Bangkok, London and Seoul, the TL225, TL220 and CL65 will be available to consumers in September 2009.