Samsung Chromebook Announced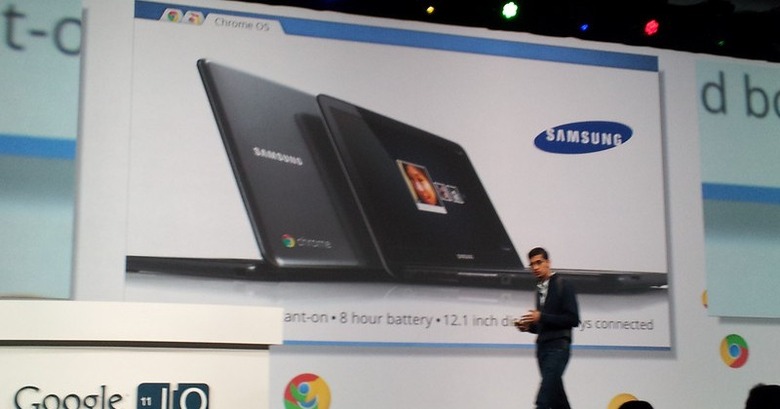 At Google I/O 2011 during the second keynote of the event, a new "Chromebook" was announced. Chromebook is a new term announced at this same keynote which covers all Chrome OS specific notebooks. This first Chromebook is the Samsung Series 5. This device has a 12.1 inch display,dual core Intel Atom processor, all-day battery usage, 8 second boot, wifi and 3G option, available in 2 colors. Sundar Pichai announced this and an ACER Chromebook together. Samsung has two versions, WiFi for $429 and $499 for 3G. This book will be available June 15th at Amazon.com and Best Buy online. It'll be available in the UK, France, Germany, Spain, Italy, and the Netherlands soon as well.
This is not the first Chrome OS notebook, of course, there's the developer tester version that came out a few months ago, the same one we gave away here on SlashGear and over on Android Community like so: CR-48 for all! Of course that giveaway is expired and now you'll not be wanting it anyway. Who wants a few month old device? Also this newer Chromebook has much better hardware as it's created for a much wider distribution than just a testing crowd.
Specs:
12.1-inch 1280×800-resolution 300 nit display
3.26 lbs
8.5 hours of continuous usage
Intel Atom Dual-Core N570 processor
Built in dual-band Wi-Fi and World-mode 3G (optional)
HD Webcam with noise cancelling microphone
2 USB 2.0 ports
4-in-1 memory card slot
Mini-VGA port
Fullsize Chrome keyboard
Oversize fully-clickable trackpad
Jailbreaking on these devices is encouraged. Both of these devices will be trump cards for Chome OS, strides ahead of what's been offered thus far (especially since these devices are available for sale to the public.) More information on this Chromebook (and the ACER Chromebook) will be posted on SlashGear soon, as additional events are planned for both.