Samsung borrows Apple actress for Android tab ad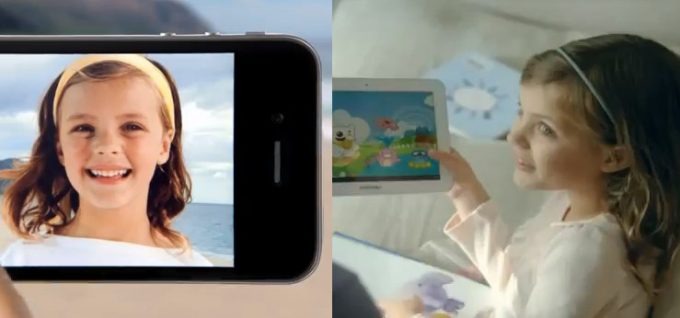 Apple has already accused Samsung of being an arch-copyist with its smartphone and tablet designs; now, the Korean company appears to have borrowed one of its Cupertino rival's actresses. Cheryl Lindo Jones spotted that a new Galaxy Tab 8.9 LTE commercial for the Korean market – since yanked from YouTube, though not before copies were made – uses the same young actress as Apple's iPhone 4S camera commercial. Check out both ads after the cut.
In Apple's promo, the youngster is shown cavorting for the iPhone 4S' camera, the smartphone's onboard editing tools used to tweak it before sending it out to Twitter. Samsung, meanwhile, also has some mugging for the camera, showing the girl excited by the flexibility of the 4G slate.
It's unclear if the casting – and the camera theme similarities, which are admittedly brief – was inadvertent or intentional on Samsung's part. Although the company has been keen to point out that it sees its products as competing not copying with Apple's, it also hasn't been shy about taking pot-shots at iPhone lovers in its ads.
Exactly what it could hope to gain by using the same actress is unclear, however, and this might be a case of an advertising agency goofing rather than Samsung itself.
Samsung Galaxy Tab 8.9 LTE advert:
Apple iPhone 4S advert:
[via The Next Web]