Samsung Battery Pack Kettle powerbank doubles as a smartphone stand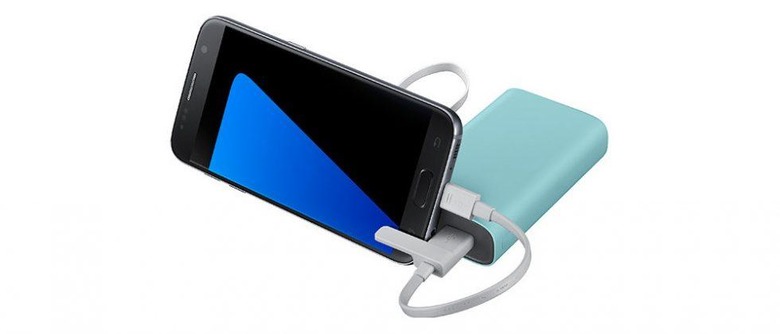 Late last year, Samsung took the wraps off a lineup of exclusive accessories for its smartphones, including the 'Battery Pack Kettle' that features a unique design. While using the battery pack to charge a phone, the phone itself can be nestled between the powerbank and a special USB connector attachment that serves as a phone stand, keeping the handset upright on a desk or table surface.
When first announced, Samsung didn't reveal any pricing or exact availability dates, indicating that these things would vary based on the region. Now we know the answer to both those questions, at least for individuals located in the US: the Battery Pack Kettle has appeared online in the Samsung.com store priced at $29.99 USD.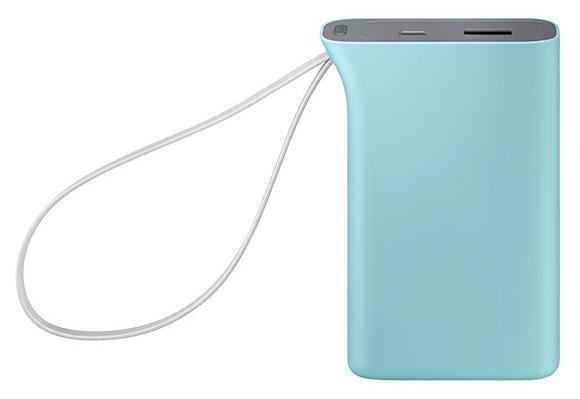 The Battery Pack Kettle features a 5,100mAh capacity which is enough to charge your phone fully with energy to spare. The model features what Samsung calls a 'kickstand cable.' As the photo above shows, the kickstand is a small piece on the end of the charging cable that juts outward, holding the phone in place. It appears to be made of plastic and is quite simple — but functional — in design.
Overall, the powerbank measures 2.2 x 3.6 x .91-inches in size and weighs about a third of a pound. Users get both a microUSB port and a USB-A port; the only color available appears to be the 'Mint Blue' one above. Shipping is listed as taking between 1 and 3 days. Check out the timeline below for more Samsung news!
SOURCE: Samsung