Samsung B7610 Louvre WM6.1 smartphone leaks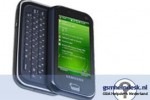 According to The Phone House (the Dutch branch of The Carphone Warehouse), you're looking at the Samsung B7610 Louvre.  An unannounced update to the Samsung F700, the Samsung B7610 runs Windows Mobile 6.1 and has a full QWERTY slide-out keyboard.  If the store is to be believed, the B7610 Louvre is set to reach stores by the beginning of July.
Presumed specs include UMTS/HSDPA and a roughly 5-megapixel camera, given Samsung's other current handsets and their optical abilities.  Other likely features would be GPS and hopefully WiFi, which was absent from the F700.
What we're left wondering is whether Samsung have dumped the F700's capacitive touchscreen in preference for the more familiar Windows Mobile fare of a resistive panel.  That seems a likely proposition, but we'll need to wait for an official announcement from Samsung before we know for certain.
[via GSM Helpdesk]