Samsung ATIV Q official: Windows 8 and Android, notebook and tablet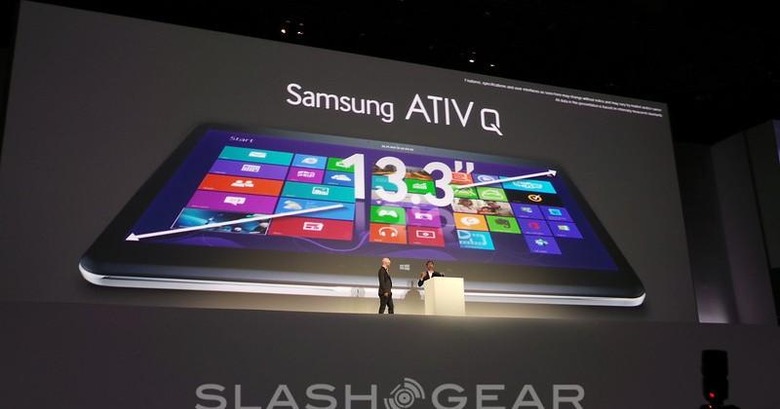 The Samsung ATIV Q has been introduced by Samsung this week as a tablet/notebook hybrid that's able to work with Windows 8, on the one hand, and Android 4.2.2 Jelly Bean on the other. This machine has a hinge that allows it to be a standard notebook, a flat tablet, a display-mode screen, and everything in-between (that's the fourth). This device takes what the Acer Aspire R7 brings to the table and steps things up a notch with both full-powered Windows 8 and the newest in new Android.
What you've got here is a machine that's 327.0x217.8x13.9mm (12.87x8.57x0.55 inches) when closed, weighing in at 1.29kg (2.84 pounds). This device is being revealed with one color – ash black – and is surrounded by an array of ports: 1xUSB3.0, 1xUSB2.0, micro HDMI,RJ45 (dongle), HP/Mic combo, and an SD card reader. Inside, Samsung brings an Intel Core i5 processor from the 4th generation of said chips along with Intel HD Graphics 4400.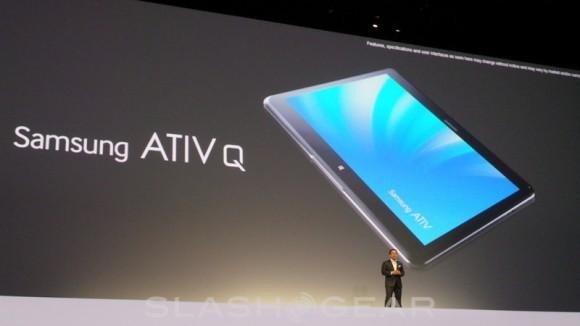 Memory in this machine will rack up to 4GB DDR3L while hard disk drive space comes in at 128GB SSD. The display – of note – rings in at 13.1-inches with 3200 x 1800 pixel resolution (qHD+) across it – that's 275ppi, heavy duty for a notebook.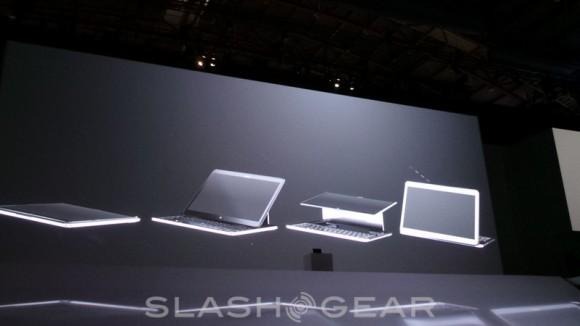 This device allows the user to work with Android apps on Windows. As Samsung explains it, the ATIV Q allows the user to access apps via Google Play as well as share files and folders between Windows 8 and Android – "truly marrying the mobile and PC experience."
This machine is set to have a rather unique place in the market, that's for certain. Stay tuned as we grab some hands-on time later today, straight through SlashGear's Samsung tag portal!