Samsung ATIV Book Q ultrabook 2-in-1 leaks with Acer Aspire R7-like hinge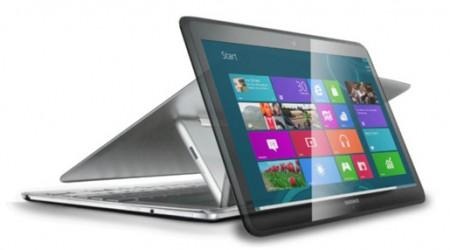 Samsung will be revealing some new products that they've been working on, and as the event invitation suggested, we should be seeing some new Galaxy and ATIV devices. Just mere hours before the event is scheduled to get underway, we've been treated with a leak that is said to be the ATIV Book Q with a style that reminds us of the new Acer Aspire R7.UPDATE: We now have hands-on with the Samsung ATIV Q, as it's called, and you'll never believe what it's actually able to do. Hint: it's got Android in it.
The leaked images come from NotebookItalia, and the ATIV Book Q looks to be a convertible laptop that can turn into either a tablet or a full-blown notebook. The hinge is rather interesting as well. While it's not exactly like the Acer R7 and its USS Enterprise similarities, the Book Q looks be of the slider variety with a hinge that also allows the screen to be tilted.
As for specs, it's said that it will come with an impressive 2560x1440 display that's 13.3 inches diagonally. On the inside, there's an Intel Core i5-4200U processor with integrated graphics, 4GB of RAM, and 128GB of solid-state drive. There's also an HD camera, 802.11n WiFi, Bluetooth 4.0, USB 3.0, and HDMI.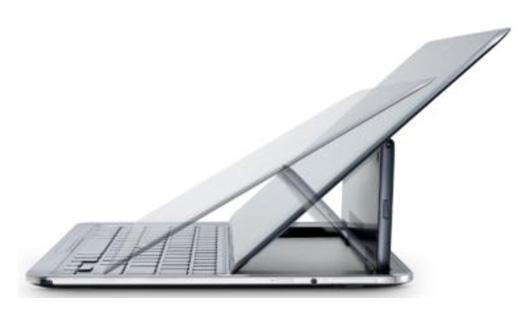 The laptop will obviously be running Windows 8, and it's said that it'll be arriving in the next couple of weeks for a price of £1,500, or approximately $2,320, but suspect that it'll be a bit cheaper than that over here in the States. We've also been told that Samsung will have six new devices to unveil today, three of which will be "interesting." As for the other three, it seems the excitement isn't there, but we'll have to wait and see. We'll be there live during the event providing you with the latest. Stay tuned!