Samsung Asks Galaxy Fold Buyers To Confirm Pre-Orders Or Risk Cancellation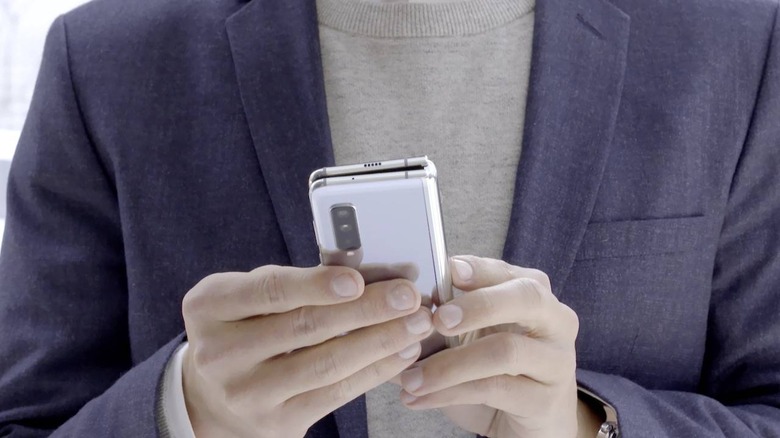 For a phone that hasn't even been released yet, the Samsung Galaxy Fold has already had quite the odyssey. After being rumored for years, Samsung partially revealed the device under the cover of a darkened stage last year, then it gave the phone a full reveal in February. Right before phones were set to begin shipping out, though, a number of reviewers started raising some red flags about the device.
Specifically, some reviewers found that the display was too easily damaged. Once those issues came to the surface, Samsung decided to delay the device, and not long after that, iFixit published a not-so-hot teardown in which the concerns about the vulnerability of the phone's folding display were made crystal clear.
News of that delay came down the line toward the end of April, and though it's been a couple of weeks since Samsung made the call, we still don't have a new release date. In an email sent to customers who pre-ordered the device, Samsung mentions that it still isn't able to give an anticipated ship date before asking them to confirm that they still want the device.
That email, which can be seen over on the Galaxy Fold subreddit, says pre-orders that haven't been confirmed by May 31st will be automatically canceled, assuming the phone hasn't shipped by then. With no release date in sight, it seems increasingly unlikely that the phone will start shipping out before the end of May, so if you pre-ordered and don't want to lose your spot in line, you should probably check your email and confirm that you'd like to keep your order.
Samsung reiterates that even if you choose to keep your pre-order active now, you can always cancel it later as long as the phone hasn't already shipped. We'll see what happens from here, but considering that the Galaxy Fold has quite a few problems that need to be ironed out, we might not be getting that new release date at any point in the near future.