Samsung ARTIK Wants To Wire The IoT (& Solve Drought)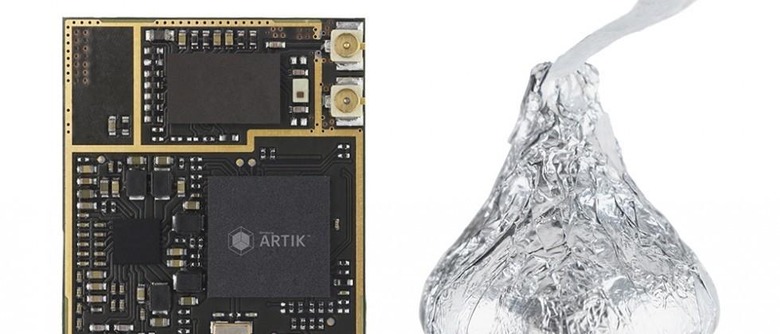 Samsung has launched a new range of chipsets intended to get your home appliances online and talking to each other, borrowing smartphone chip tech for its new ARTIK range. The trio of tiny boards – as small as 12 x 12 mm – connect via Bluetooth, WiFi, or ZigBee, model depending, with Samsung hoping they find their way into everything from connected toasters and fridges to future wearables. Meanwhile, since having your coffee pot hacked is probably considered unwelcome, ARTIK has baked-in hardware encryption.
Smallest of the three – and, indeed, smallest IoT module available currently, Samsung claims is ARTIK 1. It prioritizes size, with just enough room for Bluetooth Low Energy and a nine-axis sensor alongside its processor.

Next in line is the ARTIK 5, larger so that it can accommodate a 1GHz dualcore processor, RAM, and flash storage. Samsung is targeting home hubs and "high-end wearables" with the chip, not to mention smarter drones.
Finally, there's ARTIK 10. Its specs sound more akin to a high-end smartphone, with an octacore processor capable of 1080p encoding/decoding and 5.1-channel surround sound.
ARTIK 10 gets WiFi, Bluetooth LE, and ZigBee, along with 2GB of RAM and 16GB of storage. Samsung believes it'll find a role in home servers, media servers, and industrial devices.
Each of the three has both an embedded secure element and software that includes a machine learning based anomaly detection system, effectively trying to identify any patterns that might suggest a hack is underway.
Since the IoT is still relatively misunderstood, Samsung is tackling how we might use chips like ARTIK too. It's kicked off the ARTIK Challenge, intended to encourage innovative ways to address real-world issues with the promise of a prize to the best entrants.
First up is a $90k reward for someone who can come up with a solution for the ongoing California drought. Those who register to take part can get a free ARTIK development kit, though if you don't then submit a proposal you'll have to buy it or return it.
ARTIK will also use SmartThings Open Cloud, which promises to allow any internet-connected device to intercommunicate with counterparts online. Based on Samsung's SAMI platform, the handiwork of Apple's former Siri chief among others, it will work as a junction box for the Internet of Things.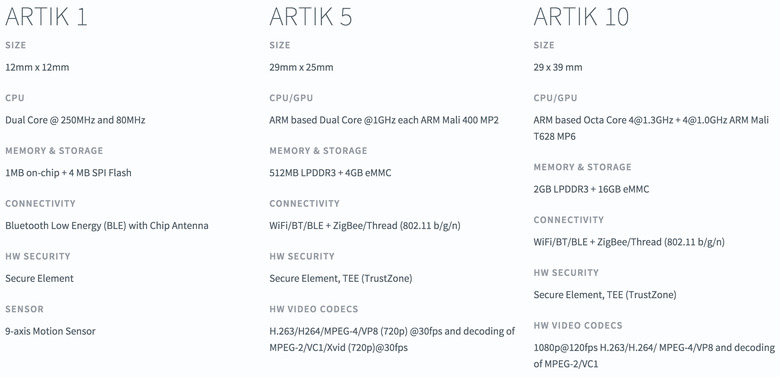 SOURCE Samsung Artik
MORE ARTIK Challenge