Samsung Application Store Unveiled by Samsung Mobile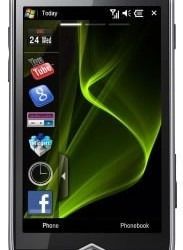 TouchWiz wasn't the greatest. TouchWiz 2.0 was a huge leap in the right direction. But there was always going to be something holding back Samsung from taking any steps forward in the mobile marketplace, and it had nothing to do with proprietary software on their phones. They lacked what everyone else and their second-cousin has: a way to get first- and third-party developed applications onto their phones. Well, it looks like that's about to change.
Earlier in the month, we disclosed Samsung's launch of the TouchWiz SDK, and it looks like they're holding good on the promise to deliver some quality apps for their phones. Firstly, there will be a portal that's powered by Samsung's own native client, and the store will be filtered via an unspecified "content guideline" for getting apps into the Samsung Application Store (we know: creative). A total of 300 applications are said to be available when the store launches, and it will apparently focus on games. Not just random Java games, either. These games are coming from major providers, like Capcom, EA and Gameloft, among others. Samsung also mentioned that they are aiming to get 2,000 applications out to the consumers by year's end.
Samsung is aiming for high-end phones to begin with: Samsung Omnia i8910 (the Omnia HD), Omnia II, and Omnia Lite. Customers will be able to tie purchases to their phone bills, or pay for your apps via third-party means. The website is available now, but Samsung said that the store won't be open to purchases until September 14th, and is going to launch in France, the UK, and Italy. 30 countries are lined up in the coming months, and considering that the Omnia II is scheduled for a release here in the States, then it's a good possibility we get to see some Application Store goodness.
[via Electronista]