Samsung release TouchWiz SDK: widgets for all platforms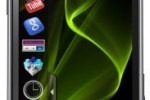 We've never particularly hidden our apathy toward Samsung's TouchWiz UI, nor our feeling that it's not quite as usable in its standard form as rival systems from HTC and others.  However all that could change now that Samsung have released the Mobile Widget SDK for TouchWiz, allowing developers to create their own desktop gadgets for not only the Windows Mobile version of the UI but the company's own proprietary OS.
In doing so, in one fell sweep Samsung have enabled application compatibility across their range.  That's no small matter, given the number of devices Samsung release – not to mention the countries those handsets are launched in – with TouchWiz giving developers a single platform to code for rather than having to deal with Samsung's various WinMo, S60 and proprietary OSes.
The SDK is built on the open-source Eclipse platform and includes all the testing, deployment and other tools you might expect; Samsung are accompanying its release with a "Widget Developer Camp" to be held September 11-13 in San Francisco.  Developers keen to get started can download the TouchWiz SDK from www.innovator.samsungmobile.com.
Press Release:
Samsung Mobile Innovator Announces Availability of the Samsung Mobile Wigdet SDK

August 17th, 2009

Samsung Mobile Innovator today announced the availability of the mobile widget software developer kit (SDK) for its unique TouchWiz™ user interface. With the release of the Samsung Mobile Widget SDK, developers will have the opportunity to create widgets for different Samsung phones across multiple platforms, including Samsung's propriety operating system.

The Samsung Mobile Widget SDK, built on the developer-embraced open-source Eclipse platform, will provide developers with the tools they need to develop widgets that bring out the very best in Samsung phones. For more information on the Samsung Mobile Innovator and to download the SDK, please visit www.innovator.samsungmobile.com.

Samsung Widget Developer Camp 2009

To kick-off the launch of the Samsung Widget SDK, Samsung will host its first Widget Developer Camp from September 11-13, 2009 at the Hyatt Regency, San Francisco. Samsung Mobile Innovator will begin accepting application submissions today, at www.samsungmobileusa.com/devcamp, through August 31, 2009. Selected applicants will be notified of acceptance into the camp on September 2, 2009. Samsung's Widget Developer Camp weekend will kick-off with a cocktail event on September 11 and beginning September 12, developers will have access to a Wi-Fi-equipped, catered and staffed meeting space for 24 hours.

At the end of the Widget Developer Camp, a panel of VIP judges will select a winner in each category, who will each be awarded a $5,000 prize. The judges will award one Best in Show winner, who will receive $20,000 and the opportunity to attend CTIA IT & Entertainment 2009 in San Diego from October 7-10, 2009 and have their widget showcased in Samsung's booth. To apply, for full rules and regulations and for additional information, please visit www.samsungmobileusa.com/devcamp.