Samsung AnyCall Show Pico-Projector phone gets video demo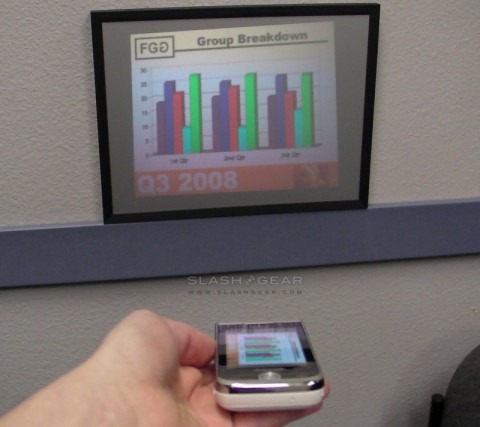 Samsung's AnyCall Show pico-projector phone was one of the surprise hits at CES earlier this month, blowing us away with the image quality possible from a TI projector hidden inside a touchscreen 3G smartphone.  Back then, we knew it would be going to South Korea before the rest of us would get a sniff at it, but PopSci have cranked up the envy factor with a hands-on video demo of the AnyCall Show in action.Check out the video demo of the pico-projector smartphone after the cut
For the AnyCall Show, a 3.2-inch OLED touchscreen running at 400 x 240 just isn't good enough.  Instead you also get a Texas Instruments pico-projector module good for still and moving images up to 50-inches in size, with ten lumen brightness and 480 x 320 resolution.
As well as the pico-projector, the AnyCall Show has a 5-megapixel camera, 3G HSPA good for download speeds of up to 7.2Mbps, and global roaming capabilities.  It measures a relatively compact 4.4 x 2.2 x 0.7 inches.  No word on pricing, nor specific release dates.
If you want to see more of the Samsung AnyCall Show – or indeed Samsung's other pico-projector announcements from CES – check out our show coverage here.
[Thanks Tony!]