Samsung Android smartphone spotted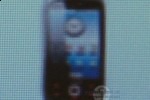 The first image of the upcoming Samsung Android smartphone has been released, spotted at a Samsung dealer presentation in Amsterdam.  The candybar-format device – the name of which is still unknown – has a large capacitive touchscreen together with a 528MHz processor, large (unspecified) amounts of onboard storage and a microSD card slot.
Other specifications for the Samsung Android smartphone are unconfirmed, but it's believed to support quadband GSM (850, 900, 1800 and 1900MHz) together with coming in two UMTS versions.  One will support US-spec UMTS 900, while the other will offer UMTS 2100 for Europe and Asia.
A camera is confirmed, but no megapixel count, and obviously Google's usual Android suite of GMail, Google Maps and other apps.  We'd expect to see GPS and Bluetooth in there too.  No word on when we'll hear an official announcement, nor when it might reach the market however.
[via Android Community]