Samsung And Visa To Offer Olympic-Themed NFC Payment Phone In 2012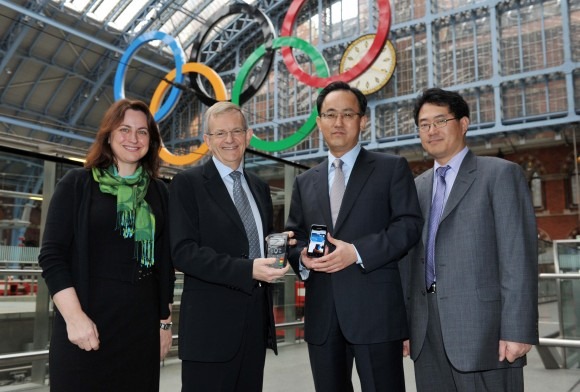 The buzz around NFC and mobile payments continues to rage, with the latest being a partnership between Samsung and Visa to offer wireless shopping in London in time for the 2012 Olympics. The scheme will use a special "Samsung Olympic and Paralympic Games mobile handset" which – if it's the device in the press shot – looks to be another variant on the Galaxy S, along with a "Visa-enabled SIM card."
The two companies plan to offer the smartphone to Olympic athletes but also put it on sale, with the promise of over 60,000 locations where the tap-payments will be accepted. It's unclear whether other NFC-enabled devices, like the Samsung-made Nexus S, will also be able to use the system.
Of course, whether London will actually get the mobile payments system in time remains to be seen; it's not the first time ambitious plans for Olympics-timed wireless systems have been scuppered. Talk of WiFi-enabling the London Underground system have collapsed after potential carrier and hardware partners balked at the idea of having to fund the whole thing themselves.
Press Release:
Samsung & Visa, Two Worldwide Olympic Sponsors, Join Forces to Enable Mobile Payments

Pioneering alliance to bring mobile payments to the UK and around the world in the run up to and during London 2012

LONDON–(BUSINESS WIRE)–Samsung and Visa today announced plans to bring the latest innovation in payment technology to the market as part of their sponsorships of London 2012, enabling consumers to make mobile payments using the Samsung Olympic and Paralympic Games mobile handset. Before and during the Games, the innovation will transform the payment experience in London and globally, enabling faster, more convenient payments via mobile phone.

"We look forward to working with financial institutions and mobile operators alongside Samsung to make this initiative a success."

Samsung and Visa's new strategic alliance is designed to leave a lasting legacy in the market post-2012.

Samsung Electronics, the Worldwide Olympic Partner for Wireless Communications Equipment, and Visa, the Worldwide Olympic Partner and exclusive Payment Services sponsor are combining their sponsorship assets and leadership in technology to ensure that the Olympic and Paralympic Games mobile handset available to the general public will be equipped with technology that enables mobile payments, Near Field Communications (NFC) and Visa's contactless payment technology. To make payments, customers simply select the Visa mobile contactless application, select pay and hold the phone in front of a contactless reader at the point of purchase.

Visa is working with banks and retailers worldwide to roll-out acceptance for Visa contactless cards, as well as mobile phones, as part of an industry wide roll-out of contactless technology. In London there are already more than 60,000 locations where contactless payments are accepted and contactless and electronic card payments will be available in the run-up to and during the 2012 Olympic and Paralympic Games. With the momentum to commercialise mobile payments globally, consumers will be able to make mobile contactless payments in the run up to and during the Games in many countries around the world.

Samsung and Visa will work together to provide the contactless enabled Olympics handset to Visa and Samsung sponsored athletes as part of this initiative. Samsung and Visa also plan to make the handset available for consumers to purchase through mobile network operators and other distributors. A Visa-enabled SIM card will be required for use with the device in order to make purchases at retailers who have the contactless payment system.

"Visa, like Samsung, shares the vision of leveraging our Olympic and Paralympic Games sponsorship to leave a lasting legacy in the market for banks, retailers, mobile operators and consumers. We are not only breaking new ground for Olympic partnerships, we are committed to enabling consumers to connect with mobile and contactless payments technology for 2012 and beyond," said Peter Ayliffe, CEO of Visa Europe. "We look forward to working with financial institutions and mobile operators alongside Samsung to make this initiative a success."

"Innovation is a key business driver for Visa and mobile payments are one of the main areas we're focusing on. The Olympic and Paralympic Games enables us to accelerate our business goals and this partnership plays a large role in achieving them," said Mariano Dima, Executive Vice President of Marketing and Payment Solutions at Visa Europe.

Samsung and Visa are committed to enabling consumers to create meaningful connections with the Olympic and Paralympic Games and enjoy a better, smarter life through the leading mobile payment technology. Samsung has demonstrated its leadership in NFC-enabled phone technology, since it launched one of the first commercial NFC phones in France in 2010. It then unveiled the industry's first Android phone equipped with NFC capabilities last year, followed by the NFC-enabled bada smartphone, introduced at the Mobile World Congress 2011.

"As a pioneer in mobile technology, Samsung is striving for long term change in the way we use mobile payments. In London next year, we regard the greatest show on earth as the perfect opportunity to showcase how this technology can make a positive difference to people's lives – enabling them to feel closer to the Olympic and Paralympic Games. This mobile payment device will be available in the UK initially, and we plan to expand the service to other countries in Europe and around the world where contactless payment facilities are available in the near future," said Seokpil Kim, President & CEO of Samsung Electronics Europe.

Gyehyun Kwon, Vice President & Head of Worldwide Sports Marketing, Samsung Electronics added, "This marks the very first partnership between two Worldwide Olympic Partners of the London 2012 Games. We are delighted to be joining forces with Visa to make the Olympic Games more accessible and convenient for everyone. This fits extremely well with our ambition to enable more people to participate in the Games through our smart technology."

Visa and Samsung will work with mobile network operators, financial institutions and retailers around the world to bring the convenience, security and reliability of Visa's contactless technology to mobile users worldwide. Currently, Visa mobile payments are being rolled out in countries across the globe including Australia, Canada, Czech Republic, Brazil, France, Hong Kong, Italy, Malaysia, Poland, Singapore, Spain, Slovakia, Switzerland, Turkey, the UK and the United States.