Samsung AF315 3D all-in-one flaunts its slender bezel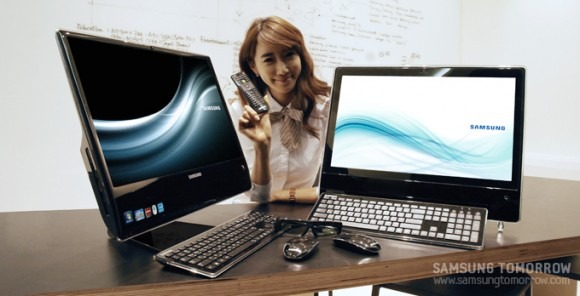 Samsung has outed its latest all-in-one PC, the Samsung AF315, a 3D-capable computer with a super-skinny bezel that's apparently targeted at the ladies in the audience. Based around Intel's 2.7GHz i5-2390T processor and a 23-inch Full HD 3D display, the AF315 has AMD Radeon HD6730M 1GB graphics and 4GB of DDR3 memory.
There's also a 1TB 7,200rpm hard-drive, so at least women aren't expected to scrimp on specs. Samsung have added some neat touches, too, like a simple connectivity system between the AIO and the company's cellphones that's set up by snapping a photo of a QR code. There's also a permanently powered USB port for charging gadgets while the Windows 7 PC is turned off.
Other ports include USB 3.0, and there's a TV tuner, Bluetooth and Blu-ray. The Samsung AF315 will go on sale from tomorrow, May 26, priced from 2.19m won ($1,987).
[via 3D-Display-Info]