Samsung A877: 3G, AMOLED Touchscreen & Full QWERTY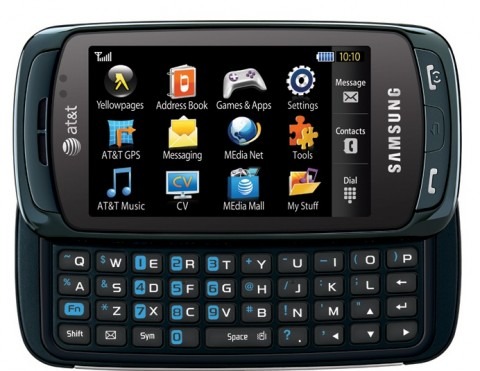 According to the latest rumors, this here sliding-QWERTY handset is the Samsung A877, and it's set to bring its 3.2-inch WQVGA AMOLED touchscreen to AT&T on March 29th.  Seemingly continuing Samsung's transition to AMOLED displays, which have the benefit of being more frugal with power while simultaneously looking brighter and more color-rich than LCD, the A877 has GPS, dualband HSDPA and the Samsung TouchWiz GUI.
Other specs include Telenav preinstalled for navigation, a 3-megapixel camera which supports geotagging, and Bluetooth.  There's unsurprisingly a media player, full HTML browser and a messaging shortcut key. 
There's speculation that the Samsung A877 could be the "Jackfrost" device tipped for launch on, you guessed it, March 29th by the recently leaked device release schedule.  Not long to wait to find out.
[via OLED-display]