Samsung 8500-series HDTVs: LED local dimming and widgets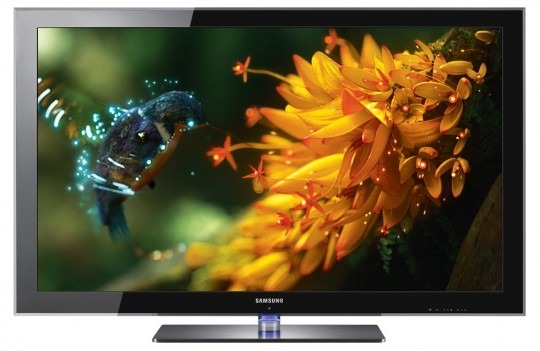 We may receive a commission on purchases made from links.
Samsung have unveiled their latest HDTV range, the 8500-series, complete with local dimming for the LED backlighting and Yahoo!'s widget engine.  Available in 46- and 55-inch sizes, the 8500-series supports 1080p High Definition playback, with a 7,000,000:1 contrast ratio, 2ms response time and 1.6-inch thick chassis.
There's also various in-house tweaking systems, designed to fight ambient lighting, together with Energy Star v3.0 compliance thanks to an energy-savings mode that dims the backlight without, so Samsung claim, changing the picture quality.  You'll also find the usual 240Hz refresh rate, frame interpolation and more. 
As for the Yahoo! engine, that uses a wired ethernet connection to bring widgets for photos, music, video and internet connect direct to the screen.  There are also two USB 2.0 ports, for loading up local content.  Both the models will be available in September this year, priced at $3,599.99 for the 46-incher and $4,499.99 for the 55-incher. 
Press Release:
SAMSUNG INTRODUCES STYLISH NEW LED HDTV THAT DELIVERS EXCELLENT PICTURE QUALITY, CONNECTIVITY AND INTERACTIVE FEATURES

Joining Samsung's Award-winning LED TV Line, 8500 Series Offers Consumers Supreme HD Experience

RIDGEFIELD PARK, N.J. – July 30, 2009 – Samsung Electronics America, Inc., a market leader and award-winning innovator in consumer electronics, today unveiled the flagship model of its expanded LED HDTV lineup with the all-new 8500 Series. The new HDTVs combine the award-winning picture quality and thinness of Samsung's previous LED HDTVs, with the latest networking and interactive features, to provide an ideal option to all TV connoisseurs.

"For consumers who are looking for the ultimate HD centerpiece and high-level performance in their home theater, the Samsung 8500 Series delivers break-through quality and design," said John Revie, senior vice president of Visual Display Marketing, Samsung Electronics America. "The 8500 Series underscores Samsung's dedication to providing a full range of HDTVs that not only achieve the highest levels of picture quality, but also provide unique and immersive entertainment experiences through our Medi@2.0ä suite."

Samsung 8500 LED HDTV Series Pricing and Availability

- Price: 46-inch class: $3,599.99 / 55-inch class: $4,499.99

- Availability: September 2009

Picture Quality and Control

With Samsung's innovative use of white LEDs as a backlight source, the 8500 Series is capable of a stunning 7,000,000:1 dynamic contrast ratio for extreme detail and image depth. Its Wide Color Enhancer Pro ensures that colors are consistently vibrant, while Samsung's Ultra Clear Panel works to improve image clarity and brightness regardless of a room's ambient lighting. The 8500 Series is also compliant with the latest Energy Star® v3.0 ratings, and includes an optimized energy savings mode that adjusts the backlight and picture quality, without sacrificing the overall viewing experience. Additionally, its "Natural" mode optimizes picture settings to model the brightness advantage of LCD displays and the cinema-like richness of plasma displays with any content.

The 8500 Series incorporates an ultra-quick 2ms panel response time, combined with Samsung's latest version of its Auto Motion Plus™ frame interpolation technology that has a true 240Hz refresh rate to significantly improve playback of fast-paced content. Going beyond the three standard Auto Motion Plus™ presets, users can also separately adjust the levels of judder and motion blur reduction for superior picture control.

Connectivity and Content

The new 8500 Series features Samsung's Medi@2.0ä suite, allowing users to access content from more sources than ever before. The Internet@TV – Content Service, developed in association with Yahoo!, provides onscreen access to popular web-based content from Yahoo! (Flickr, Video, News, Weather, and Finance), USA Today (Sports), Twitter, YouTube, and others. The widgets-based interface and scrollbar are activated with the push of a button, and run along the bottom of the screen for easy browsing of the latest programs and content available.

Even after purchase, consumers will be able to use a growing library of widgets, as the widget development kit is available for other content providers to develop new offerings. Samsung's Medi@2.0ä suite provides wired and wireless DLNA compatibility to enjoy photos, music and videos from a networked PC right on the television. Pre-loaded photos, artwork, games, and recipes are also included for entertaining, and two USB 2.0 connections can be used for playing a plethora of video, photo, and audio files from portable devices, including external hard memory.

Designed to Stand Out

Measuring at just 1.6 inches deep and featuring Samsung's Touch of Color™ (ToC™) bezel, the 8500 Series provides consumers with style and flexibility in an HDTV. Additionally, both the 46-inch and 55-inch models come with a built-in tuner and an array of multimedia connections. Samsung's innovative, ultra-slim wall-mount solution (sold separately) makes installation akin to hanging a picture frame, by reducing the gap between the TV and the wall to a mere 0.6 inches – a major improvement over traditional mounting systems.

Samsung Electronics America's press releases, video content and product images are available at www.samsung.com/newsroom.