Samsung 850 PAVV Plasma HDTV just 29mm thick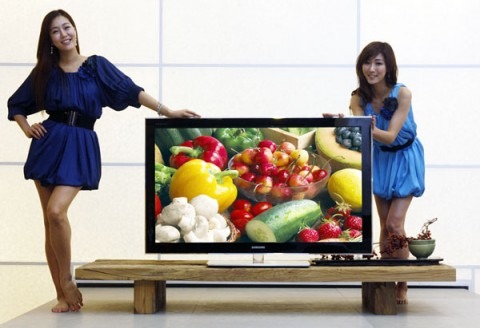 Samsung have taken the wraps off of a vast, super-skinny plasma HDTV, the Samsung 850 PAVV.  Measuring a scant 29mm thick – enough for Samsung to describe it as "finger slim" – the 50-inch 850 PAVV PDP TV can cope with full HD 1080p content, as well as having a USB 2.0 port for DivX video playback.
In fact the new plasma HDTV is 40-percent more power efficient than the previous generation of Samsung plasmas, and 20-percent lighter.  Don't confuse "lighter" with "light", though; it still weighs 26kg.  There's also a 58-inch version with an unspecified depth; Samsung say it's 50-percent slimmer than before, and tips the scales at 36kg.
Other specs include Samsung's Full HD Crystal Engine, DLNA support and 240Hz refresh rates.  No sign of prices, though, nor availability, though we're thinking these will be some expensive lounge candy.
[via Akihabara]