Samsung 82-inch Quad-HD 2160p LCD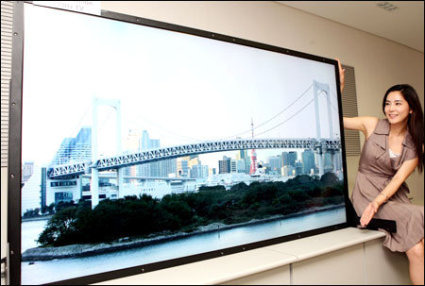 It can be tricky sometimes finding decent shows to watch in HD, but if you're of a mind to buy the superlative display first and worry about content later, there are some people in Samsung's sales department who would love to speak to you.  The company has unveiled the industry's first 82-inch Quad-HD LCD; that's 2160p, or 3,840 x 2,160 resolution.  Not only is the screen huge, and very high definition, but it's fast, too; it has a 120Hz refresh rate, double the typical 60Hz standard.
Since a great big, super-strength TV is as much use as a potash turnip if the picture is dull, Samsung have reached for the latest in LED backlighting.  Individual red/green/blue LEDs manage 50-percent more color saturation over rival sets.  Fantastic, but it'll push the price up even more; according to experts, the relatively high defect rate in LED backlights means costs are far higher than they need to be if the technology is to make it into your living room.
Samsung are playing coy on pricing right now.  However, rival Westinghouse have recently demonstrated their own 2160p TV – albeit a mere 52-inches – and that will make a $50k on your charge card.  Analysts are doubting anyone will actually stump up for the Samsung, but as a proof of concept (and a cocked snook to competitors) it's already a success.
[via Gadgetell]