Samson StudioDoc 3i USB studio monitors with built-in iPod dock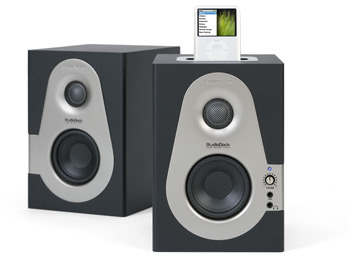 Samson have announced a new set of studio speakers that not only connect to your computer via USB – avoiding the need for a sound card – but include an iPod speaker dock that can playback music on the PMP, recharge it and synchronize it with iTunes.  The StudioDock 3i comprise a 3.25-inch magnetically shielded, inverted cone, copolymer woofer and 25mm silk dome high frequency driver, with each speaker mustering 15W.  Aside from the USB connection, which allows the 3i to show up both as as external soundcard and to sync with iTunes, there's a front-panel 3.5mm stereo aux input jack and rear panel RCA inputs.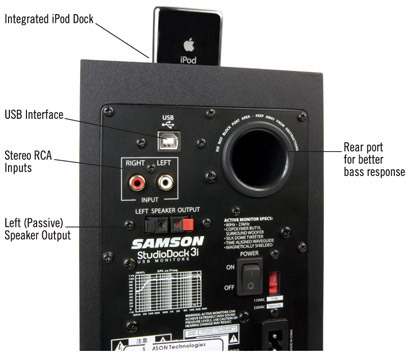 Alternatively, plug in a set of headphones into the front socket – complete with independent volume control – and the speakers are automatically muted.  Construction of the bass vented cabinets is from MDF.
The StudioDock 3i USB Studio Monitors are available now, priced at $149 for the pair.  Both a USB cable and speaker cabling are included.
Press Release
Samson Unveils the StudioDock™ 3i USB Studio Monitors with Built-in iPod® Dock

The all-in-one monitoring solution revolutionizes music production by providing USB audio and data streaming, iTunes® syncing and studio-quality sound at an attractive price point.

Hauppauge, NY – July 17, 2008 – Samson Technologies is pleased to announce the release of the StudioDock™ 3i. StudioDock™ USB monitors feature an onboard iPod® dock, a USB interface allowing for syncing with an iTunes® library and iPod® charging within the speaker design itself. The onboard USB port also enables digital playback for crystal clear sound and an all-in-one listening solution. Additionally, the USB monitors allow for a seamless transfer of audio from a computer; simultaneously eliminating any sound distortion while producing extremely accurate sound.

"We could not be more pleased with the StudioDock™ 3i. The iPod® docking capabilities and USB functionality combined with a professional quality monitor makes it perfect for the iPod® generation," said Director of Marketing Mark Wilder. "StudioDock™ is a complete solution that will make the consumer's relationship with their music more convenient," added Wilder.

The StudioDock™3i's key features include:

Integrated iPod® Dock with playback, charging & syncing capabilities

USB interface for high-resolution, digital audio streaming

3 Inch magnetically shielded, inverted cone, copolymer woofer with butyl surround

25 mm silk dome high frequency driver

Bass reflex vented cabinet design

15 watts of internal power per side

Front panel 3.5 mm stereo aux input jack, headphone output jack and volume control

Rear Panel RCA inputs

Passive crossovers utilizing multi-pole design for linear response

USB cable included

2 Meter, 18-gauge speaker cable included

Solid Medium Density Fiberboard (MDF) construction for maximum SPL

MSRP $149 per pair

About Samson Technologies Corporation.

Samson Technologies Corporation designs, manufactures and distributes high-performance wireless, audio and music accessory products in the United States and 106 countries abroad. Samson is well-known as a leading audio technology company with a long history of successful products in the professional audio segments as well as the mainstream consumer markets. Additionally, Samson is also the exclusive worldwide distributor of Hartke products and the exclusive U.S. distributor of Zoom recording and signal processing electronics. Founded in 1982, Samson Technologies is a privately held company based in Hauppauge, NY. For more information, please visit www.samsontech.com.