Russian rocket crash destroys billion-dollar satellite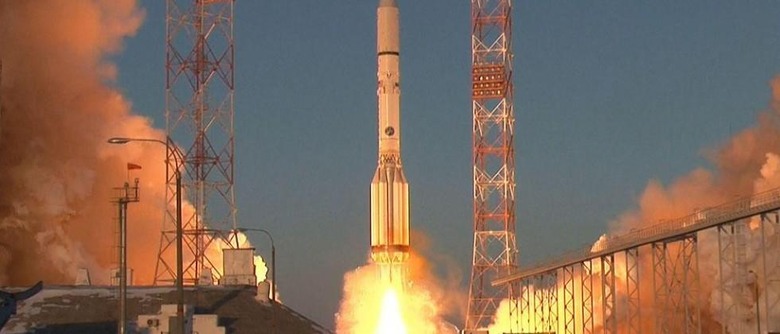 Russia has suffered another embarrassing and expensive rocket failure, with today's Proton launch failing just minutes after take-off. The incident above Baikonur Cosmodrome in Kazakhstan destroyed a $1.6bn Boeing-made satellite which Roscosmos, the Russian space agency, was launching for the Mexican government's Ministry of Communications and Transportation, not to mention again calling into question the country's capacity for commercial space missions.
The Proton rocket took off as scheduled at just after 11:47am local time (1:47am EST), but around eight minutes into flight experienced problems that sent it tumbling back to earth.
Roscosmos has only said that an "emergency situation" was encountered, giving no other comment on what might have gone wrong.
However International Launch Services (ILS), the company which handles Proton rocket commercial operations and which is owned by rocket-makers Khrunichev State Research and Production Space Center, gave a little more detail as it confirmed the failed launch.
"Preliminary flight information indicates that the anomaly occurred during the operation of the third stage," ILS said, "approximately 490 seconds after liftoff."
An investigation by ILS is already underway, the company revealed, as is one by the Russian State Commission.
In unhappy coincidence, today's failure comes exactly twelve months after another Proton rocket exploded shortly after launch. It too had been intended to take a satellite into orbit, that time for Russia itself.
Proton-M launches were grounded temporarily as the Russian space agency hunted down the cause of the problem, later resuming and six missions taking place without incident.
Today's unfortunate reminder of that patchy track record is not what Russia's space program needed as it faces increased competition from rival commercial providers like SpaceX. The next Proton launch, which had been scheduled to take an Inmarsat communications satellite into orbit next month, has already been scrapped as the investigation takes place.